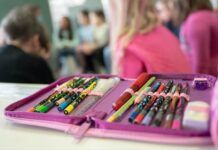 Prices are rising, and materials for school are also becoming more expensive. This poses problems for Hartz IV recipients with children. But there is help.
Frankfurt – The rising costs due to inflation also affect school supplies. Prices for school materials are currently exploding: exercise books, pens and school satchels are more expensive than ever before. Especially for families who receive Hartz IV, the rising costs are becoming more and more of a problem.
For school children whose parents receive Hartz IV, there is support from the education and participation package. In addition, these families are provided with a monthly amount for so-called educational materials. But this money is usually not enough for the costs incurred for school supplies. However, there are other offers of support.
Hartz IV: Prices for school materials are rising drastically due to inflation
In a 2015 study, the Diakonie Niedersachsen came to the conclusion that families spend an average of 214 euros per year and child on school materials alone. For most Hartz IV recipients, this is difficult to cope with at the current prices. Because even school materials are not spared from inflation. According to the Federal Statistical Office, backpacks and school bags currently cost around 4.7 percent more than a year ago. The price increase for pens and paint boxes is even higher at around 5.2 percent and the price increase for exercise books and pads is around 13.6 percent compared to the previous year due to the paper shortage.
Therefore, in special cases, there is financial aid for Hartz IV recipients that can be applied for. As the Berliner Morgenpost reports, excursions and class trips are covered as part of the education and participation package. However, the state only pays the costs that are billed by the school. Travel costs to school and costs for tutoring are also subsidized or covered.
According to reports in the Berliner Morgenpost , expenses for lunch at school or in the after-school care center are also covered. The job center will also cover the costs of textbooks, if they are not free of charge. Hartz IV recipients must apply for this as an additional expense.
Hartz IV: Subsidies for school materials can be applied for at the job center
Hartz IV will in future be replaced by citizen income. Federal Labor Minister Hubertus Heil (SPD) has announced a significant increase in Hartz IV rates. Unemployed people in Germany should receive a hefty surcharge on the standard rate. The child bonus and the immediate child supplement are also affected, and the payment of the one-off payments from the relief package has started.
The various support offers for school children can be applied for by Hartz IV recipients at the responsible job center. If the actual costs exceed the services paid, an application for additional expenses can also be submitted. However, a thorough examination is required here. In addition to the state benefits, many schools also offer other support services for families with low incomes through support associations. (hg)