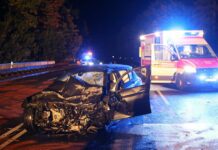 A 23-year-old comes into oncoming traffic and collides with a vehicle. A mother and her daughter die in it. Another family member is fighting for his life.
Ebergötzen – They had no chance: a 43-year-old and her 14-year-old daughter died in a head-on collision on the federal highway 27 in the Lower Saxony district of Göttingen.
A 41-year-old man who was in the same vehicle as the two and belonged to the family was critically injured, the police said. A 23-year-old drove his car off the rain-soaked road on Saturday evening and drove into the MPV in oncoming traffic. The young man was seriously injured in the accident near Ebergötzen and, like the 41-year-old, was taken to a hospital.
The vehicle in which the mother, daughter and the 41-year-old were traveling was catapulted over the safety barrier and fell down an embankment several meters deep, the police said. Both women died at the scene of the accident. A police spokeswoman was initially unable to say on Monday whether the 41-year-old was the girl's father. It was still unclear who was behind the wheel in the limousine – as well as why the 23-year-old lost control of his car.
For the extensive rescue and recovery work and the accident recording, the four-lane federal highway was completely closed in both directions until Sunday at around 3 a.m. The accident happened around 6 p.m. The 23-year-old's car was confiscated by order of the Göttingen public prosecutor's office. dpa