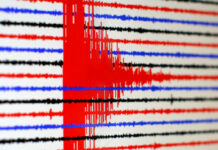 Severe earthquakes shook parts of Baden-Württemberg over the weekend. A magnitude of 4.7 was measured in Alsace, which also affected southern Baden. Read more here:
The table wobbles, the glasses rattle in the cupboard – earthquake. On Saturday evening (September 10th), strong vibrations were measured in large parts of Baden-Württemberg. People became restless and reported to the police. Damage has not yet been announced. The strongest measurement was in the Lörrach region.
HEIDELBERG24 summarizes in which parts of Baden-Württemberg there was a strong earthquake at the weekend – and how people reacted to it.
The earthquake in Baden-Württemberg over the weekend was the strongest since 2004. Earthquakes happen more often. However, the values usually remain below a value of 2.0. (fas)