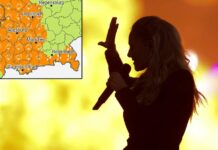 The Helene Fischer concert on Saturday in the open air is a highlight for many fans. But to ensure that nothing goes wrong, there are clear rules. Find out more here:
Munich – Whether barbecuing with friends, hiking or at a Helene Fischer concert – bad weather or even storms can quickly turn outdoor fun into a nightmare. RUHR24 knows that the organizer has a clear plan so that concertgoers are well prepared for this eventuality.
Even if it rains, Helene Fischer's biggest open-air concert to date, which is even recorded for a DVD and TV production, should definitely take place there tonight. "From the current perspective, there is no reason to panic," said a spokesman for the Leutgeb Entertainment Group, the organizer of the concert, on Friday to the editorial network Germany .