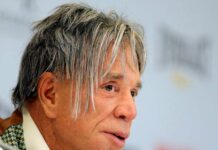 With the erotic film "9 1/2 Weeks" Mickey Rourke once became Hollywood's sex symbol. After a roller coaster career, also as a boxer, Rourke celebrated his comeback with "The Wrestler".
Los Angeles – Mickey Rourke just can't shake the reputation as Hollywood's uncouth oddball. In July, the actor and ex-boxer lashed out at Top Gun: Maverick star Tom Cruise in a TV interview peppered with swear words.
For 35 years, Rourke has always played the same role, criticizing his colleague. As an actor, Cruise is "irrelevant" to him, he teased on the British talk show Piers Morgan Uncensored.
Great role models
Rourke continued – and referred to colleagues like Al Pacino, Christopher Walken, Robert De Niro and Marlon Brando, whom he emulates as an actor. The man with the scarred face, whom the erotic drama "9 1/2 Weeks" made into Hollywood's sex symbol in the 80s, has had a roller coaster ride with many crashes, both professionally and privately. This Friday (September 16) the rebellious Rourke will be 70 years old.
Rourke was also critical of himself on the British talk show. He disregarded life advice, made many mistakes, behaved like an "asshole" and destroyed his career. He spoke about violence and abuse in his childhood and over 20 years of therapy. He is really talented as an actor; if he could just behave, he'd have a chance, Rourke mused.
He wanted to be a professional boxer
His father, a bodybuilder of Irish descent, left the family early. Rourke discovered his love for boxing as a child, but gave up his dream of a career as a professional boxer after injuries. As a schoolboy, he acted in theater, took classes in New York, and finally gained a foothold in the film business.
In the thriller "Hot Blood – Cold Blood" (1981) he had a small supporting role alongside William Hurt and Kathleen Turner. Barry Levinson cast the newcomer in the 1982 buddy comedy American Diner, and Francis Ford Coppolas cast him in the teen saga Rumble Fish (1983).
rise and fall
The erotic thriller "9 1/2 Weeks" (1986), directed by the British Adrian Lyne alongside Kim Basinger, made him a cult star overnight. In Europe, the uncensored film about a sadomasochistic affair became a box office hit. With "Angel Heart" and "Barfly" he continued his meteoric rise to become Hollywood's "tough guy" and sex symbol.
But soon the case followed: Rourke made headlines with alcohol excesses and scuffles, he fell out with important people. In 1998 his often stormy marriage to the model Carré Otis, his film partner from the erotic film "Wild Orchidee", broke up.
At the bottom of his film career in the early 1990s, Rourke got back into the ring, now as a professional boxer. But after four years, he was physically battered with a smashed nose and broken cheekbones. With an operated face he returned in front of the camera in small roles ("Sin City", "Domino").
Comeback mit "The Wrestler"
And then came the comeback with sensitive screen drama The Wrestler: in New York director Darren Aronofsky's film about veteran wrestler Randy "The Ram" Robinson, Rourke played a role that suited him perfectly – a battered fighter with a battered one Body that, despite everything, cannot stop. Critics praised his performance and he was showered with award nominations.
In January 2009, Rourke triumphed on the Golden Globe stage for Best Drama Actor. In his speech he thanked all his dogs, "those who are still here and those who have already left". He justified the unusual affection for the four-legged friends with years of loneliness. "Sometimes a man is left with nothing in his solitude but the dog. They meant the world to me," Rourke said.
However, his hopes for an Oscar were dashed a few weeks later. Not Rourke, but Sean Penn took the trophy for his performance as the charismatic gay politician Harvey Milk in the political drama "Milk". "Mickey Rourke is back and he's my brother," Penn said in his acceptance speech to the competitor.
Since the "Wrestler" success, Rourke has regularly appeared in smaller roles in front of the camera. Til Schweiger gave him directing instructions for the episode film "Berlin, I Love You" (2019). That year he shot the black comedy The Palace, directed by Roman Polanski – about people on New Year's Eve 1999 in a hotel in the Swiss Alps. With the German Oliver Masucci, the French Fanny Ardant and the British John Cleese, Rourke is in the best of company. dpa