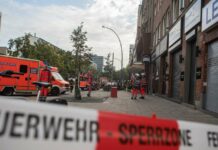 Apparently the "morning toilet" triggered a major fire brigade operation on Friday. An entire hotel on Steindamm had to be cleared because of "smell".
Hamburg – odor alarm in the Savoy Hotel on Steindamm in St. Georg. On Friday, September 9, 2022, at around 7:50 a.m., guests of the hotel alerted the Hamburg fire brigade. There should be a funny smell in a hallway, and some guests should already be coughing. A major alarm is triggered immediately.
You can find out what a possible trip to the toilet has to do with the operation at 24hamburg.de
The fire brigade fears that several people may have inhaled toxic gas. When the first rescue workers arrive, the entire hotel is evacuated immediately. Around 25 people had to leave the hotel early in the morning. According to information from on site, the premises are currently being used as accommodation for refugees.