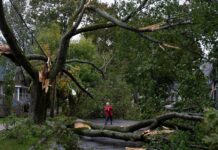 Hurricane "Fiona" has weakened but still caused severe damage as a dangerous storm on Canada's Atlantic coast. Homes have been washed away, hundreds of thousands are without electricity.
Halifax – With heavy rainfall and storm surges, hurricane "Fiona" has caused severe damage along Canada's east coast. A state of emergency has been declared in some areas. Hundreds of thousands of people were without power. Canadian Prime Minister Justin Trudeau announced rapid aid for the affected regions on Saturday. The military should also be used in the clean-up work.
The coastal town of Port aux Basques in the province of Newfoundland and Labrador was badly affected, where several houses were torn away by high waves. The police had previously instructed residents to leave the danger zones. The town's mayor, Brian Button, spoke of a "war zone" in a Facebook video. There were images of destruction everywhere.
Also in the province of Nova Scotia, the storm covered roofs, collapsed power poles and trees and flooded streets. Nova Scotia Prime Minister Tim Houston spoke of an "incredible number" of downed trees on Saturday afternoon (local time). Almost three quarters of the residents are without electricity. Houston said it was too early to estimate the extent of the damage. According to the website "Poweroutage.com", more than 400,000 customers in the affected provinces were without electricity on Saturday evening (local time).
As a so-called post-tropical storm, "Fiona" hit land in Nova Scotia early on Saturday morning (local time) with wind speeds of up to 148 kilometers per hour, as the Canadian hurricane center announced. Due to climate change, there are not more tropical cyclones per year overall, but there are more powerful and destructive such storms.
The next strong storm is already threatening in the Caribbean
"Fiona" passed the British overseas territory of Bermuda on Friday as a hurricane in the second strongest category. Last weekend, "Fiona" was a category one out of five hurricane that made landfall in Puerto Rico, causing flooding and severe damage.
Meanwhile, the next strong storm was already forming in the Caribbean. He was christened "Ian" and was traveling in the central Caribbean on Saturday with sustained wind speeds of up to 75 kilometers per hour, as the US hurricane center NHC announced. "Ian" is expected to gain strength and become a hurricane late Sunday (local time) or Monday night near the Cayman Islands.
The tropical storm is expected to pass Jamaica on Sunday and approach the Cayman Islands and western Cuba. The expected large amounts of rain could cause flash floods. dpa