Hurricane Ian hit Florida with full force. The hurricane is now heading for South Carolina. The death toll is increasing. The news ticker.
Hurricane 'Crushes' Entire Florida Area : 'Ian' Now Heading For South Carolina
"Ian" upgraded to Cyclone again: At least 12 fatalities.
Hurricane "Ian" hits Florida with full force : a path of devastation feared – flood video goes viral
This news ticker has ended. The sequel from October 3rd can be found here.
Update from September 30, 7:44 a.m .: It is still too early to estimate how many lives Hurricane "Ian" has actually claimed so far, says Florida Governor Ron DeSantis. Twelve fatalities were known by Thursday (see update from 6.31 a.m. ). According to DeSantis, hundreds of people continue to depend on the help of rescue workers.
Whole neighborhoods in Naples were flooded. TV pictures from there showed completely flooded streets with cars drifting. Rescue workers were deployed in various areas with helicopters and boats to rescue people trapped by the water masses. Some areas, like the city of Fort Myers on Florida's southwest coast, were "really devastated, really devastated by this storm," says Governor DeSantis.
Update from September 30, 6:31 a.m .: After Hurricane Ian passed through, the death toll in the US state of Florida continued to rise. As the broadcaster CNN and representatives of various local authorities reported on Thursday, at least twelve people were killed by the devastating storm.
Hurricane "Ian": The number of deaths increases – the hurricane is heading for South Carolina
Over the Atlantic, "Ian" has meanwhile regained strength. With sustained winds of 120 kilometers per hour, it became a level one of five hurricane again on its way towards the coast of the state of South Carolina, the US hurricane center announced on Thursday. "Ian" had previously been downgraded to a tropical storm.
As early as Thursday, the hurricane was moving at a speed of around 16 kilometers per hour over the sea towards South Carolina.
Update from September 29, 7:55 p.m .: Joe Biden fears that hurricane "Ian" in the state of Florida has claimed numerous lives. "This could be the deadliest hurricane in Florida history," said the US President in Washington during a visit to the headquarters of the US disaster protection agency Fema: "The number of victims is still unclear, but we are hearing the first reports of potentially significant losses in human lives."
The situation is still dangerous, warned Biden. "We continue to experience deadly rains, catastrophic storm surges, flooded streets and homes," said the Democrat. "We see millions of people without power – and thousands taking shelter in schools and community centers." These people wondered what is left of their home or whether they would have a home at all.
The head of the civil protection agency Fema, Deanne Criswell, said: "Hurricane 'Ian' will be a storm that we will be talking about for decades." The next few days would be difficult, there were many complex problems to be solved in the operations in the storm area.
Hurricane "Ian" hits USA with full force: Florida governor speaks of "historic damage"
Update from September 29, 4:50 p.m .: According to Florida Governor Ron DeSantis, two deaths have been reported so far, and it is not yet clear whether they were directly related to the storm. There will only be clarity as soon as emergency services can advance to the most affected areas. Rescue operations are underway, including with helicopters.
The Republican went on to warn, "The impact of this storm is historic. And the damage that has been caused is historic." However, there are only initial assessments of this, the full extent will only be foreseeable in the coming days. "We've never seen flooding like this," DeSantis explained. "We've never seen a storm surge of this magnitude."
Update from September 29, 2:43 p.m .: The violent hurricane "Ian" has so far officially claimed one fatality. A 72-year-old man who went outside to check his pool was swept away and found dead in a sewer behind the house, ABC News reports.
Hurricane "crushes" entire area in Florida – Sheriff fears more deaths
Lee County Sheriff Camine Marceno assumes more fatalities. But he would not yet know the exact number, Marceno said in an interview with the news channel. You would therefore already be in the process of getting an overview of the affected regions in Florida. But the entire area is "crushed" and people are trapped. Thousands of emergency calls would come in.
People on the island cut off from the outside world: Hurricane "Ian" dismantles the bridge
Update from September 29, 1:12 p.m .: Hurricane "Ian" is probably one of the strongest hurricanes that have ever hit the United States. The National Hurricane Center warned of "catastrophic flooding" in advance. In Southwest Florida, people are locked in their homes. Parts of a bridge have collapsed. The offshore island of Sanibel Island is cut off from the outside world. "It's terribly hard to see," tweeted journalist Lydia Nusbaum. "I know people who are stuck on the island."
More than 2 million Florida homes are without power, according to the website poweroutage.us . The danger is not over yet. Strong winds with peaks of up to 100 km/h push the water further to the Florida coast. According to the American weather service NOAA, the water level in the areas around Fort Myers is almost a meter above the normal value at high tide. The water should recede with the low tide shortly after noon.
On Wednesday at the peak of the hurricane, a water level of over two meters was measured there. As CNN reports, since 1965 the measuring device has never indicated more than 104 centimeters of flood water.
Hurricane Ian made landfall on Florida's west coast Wednesday as a Category 4 hurricane near Cayo Costa, an island off the coast of Fort Myers.
The hurricane swept across the peninsula with wind speeds of 240 km/h.
On Thursday morning, the National Hurricane Center downgraded Ian to a 100 km/h tropical storm.
Hurricane hunter experiences "toughest flight" of his career
Update from September 29, 12:06 p.m .: The US weather service NOAA collected data for weather forecasts with a flight through the eye of Hurricane "Ian". The so-called "NOAA Hurricane Hunters" are on the road on behalf of science. "It was the toughest flight of my career," reports one of the crew's engineers.
Millions without power: Hurricane Ian downgraded to tropical storm
Update from September 29, 11:49 a.m .: Millions of people are without electricity. The US National Hurricane Center (NHC) announced that the dangerous hurricane "Ian" weakened to a category 2 tropical storm on Thursday morning. However, the weather authorities continue to warn of strong winds and heavy rains as well as storm surges on the Gulf Coast. If the weather permits, teams are available for salvage and repair work. Authorities say the power outages could last for weeks or months. The extent of the damage is initially unclear. Entire regions have been devastated. What is certain is that "Ian" is probably one of the most violent hurricanes that have ever struck Florida.
Hurricane "Ian": Curious shark video causes a stir on social networks
Update from September 29, 11:36 a.m .: With wind speeds of up to 240 km/h, hurricane "Ian" made landfall in Florida. Wind whipped the sea onto the shore. Floods simply washed away houses, streets are completely flooded. The force of nature is said to have flushed a shark into the city of Fort Myers. A video of a fish with a shark-like fin wriggling in the water has been circulating on social media.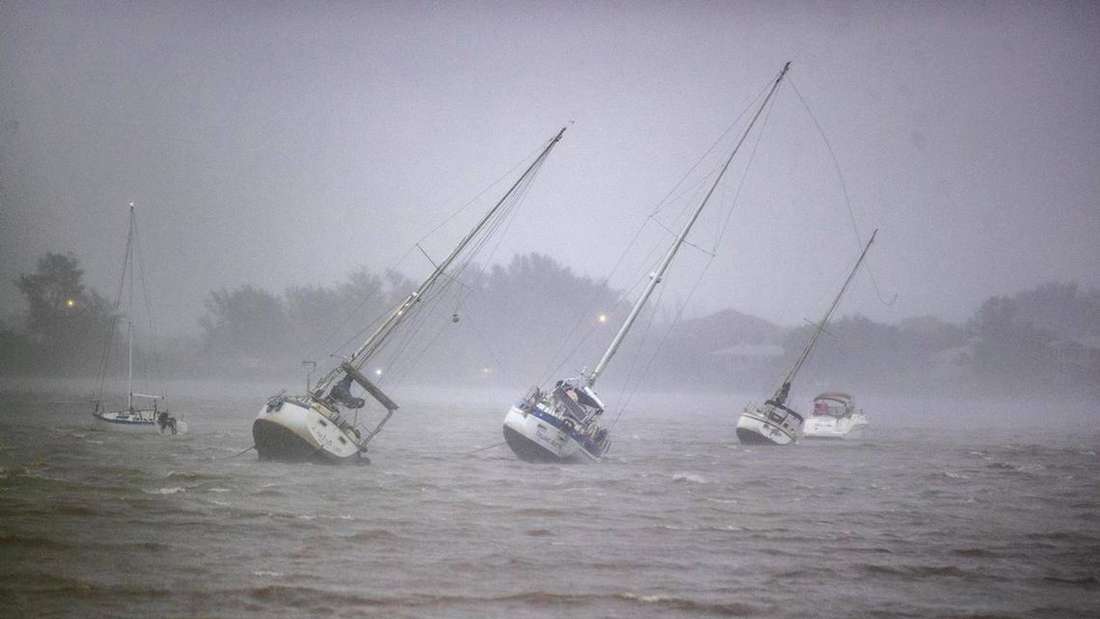 Storm surges, flooding and power outages: Hurricane "Ian" paralyzes news channels
Update from September 29, 9:36 a.m .: Hurricane "Ian" flooded the studio of a news station. The storm surge hit the entire set and newsroom of WINK TV in Fort Myers, which also reports for CNN. "There was a power outage and I was unable to broadcast on TV and radio," WINK chief meteorologist Matt Devitt wrote on Facebook. A video shows how the studio is completely in the dark.
"It was without a doubt the strongest hurricane in Southwest Florida's history," said the weather expert. He assumes that the worst wave is over.
"Storm surge and flooding from Hurricane Ian disrupted WINK News broadcast," the station's website said. The power went out just before 5 p.m., but the team would have broadcast on Facebook for a while.
"We're like everyone else," said Tom Doerr, director of local news and content at WINK News. "We have the same difficulties as everyone else."
Hurricane "Ian" hits Florida with full force: a path of devastation feared – flood video goes viral
Update from September 29, 6:34 a.m .: Hurricane "Ian" hit the US state of Florida on Wednesday afternoon (local time) and caused strong winds, rain and storm surges. Weather experts expect "catastrophic flooding", as reported by CNN. A resident of the town of Bonita Springs shared a video on Twitter Wednesday showing the rapidly rising water masses in the coastal town. According to the US newspaper Washington Post , the owner of the cat recovered in the video has not yet been identified, and the animal has since found shelter with its rescuer.
Hurricane Ian causes storm surges and flooding
Update from September 29, 6:05 a.m .: The hurricane "Ian" had weakened on the way to Florida, but a strip of land more than a hundred kilometers wide was exposed to severe storms. According to the experts, the storm was around 110 kilometers south of Orlando on Thursday night. Television pictures showed how rain was lashing the streets, only the roofs of cars were sticking out of the floodwaters and debris was flying through the air.
"Ian" may make the list of the five deadliest hurricanes in Florida, said Florida Gov. Ron DeSantis. Some of the storm surges reached a height of around 3.5 meters, according to Ron DeSantis. Weather experts feared that they could grow more than five meters high at the top.
In the meantime, the storm has reached the lowest strength of one in five, but the danger remains considerable. The hurricane center of the National Weather Service in the USA expects heavy rains and "catastrophic floods" with "record-breaking river floods" on Thursday evening (local time), as CNN reported on Thursday morning German time. The experts also warned of significant flooding in northern Florida and parts of the US states of Georgia and South Carolina by the end of the week. The director of the National Hurricane Center, Ken Graham, emphasized that it will probably take 24 hours after arriving on land for the hurricane to pass over Florida.
Florida's governor Ron DeSantis had previously prepared the population in his state for severe damage from the approaching hurricane "Ian". "This is a big, strong storm," DeSantis said Wednesday morning in the Florida capital, Tallahassee. "He's going to do a lot of damage," he warned. The Republican politician predicted that the next day or two would be "very ugly" before the hurricane passed Florida. "It's going to be a tough track."
With a speed of 240 km/h, "Ian" is one of the strongest hurricanes on the west coast of Florida
Update from September 28, 10:49 p.m .: Hurricane "Ian" hit the land in Florida with a wind speed of up to 150 mph, the equivalent of about 240 kilometers per hour. As CNN meteorologist Brandon Miller reports, "Ian" is the strongest hurricane to make landfall on the west coast of Florida, together with Hurricane "Charley" from 2004. Both storms had the same wind force.
According to Poweroutage.us , more than a million people in Florida are now without power. More major damage is expected as water levels continue to rise in many cities on Florida's west coast. With regard to the flood data, which go back to 1965 in Florida, new record values were measured at water levels in several places. Among them is the city of Fort Myers, for example.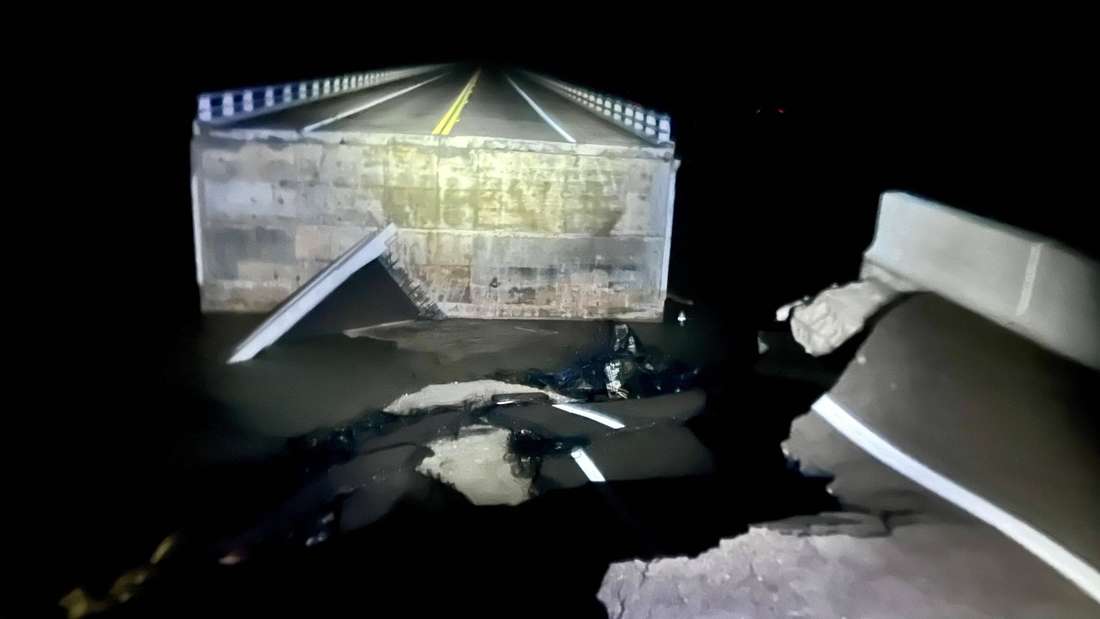 Florida: Footage shows flooding in Southwest after Hurricane Ian
Update from September 28, 9:04 p.m .: While hurricane "Ian" continues to rage in Florida, the first consequences of the storm in Collier County, whose administrative center is Naples, become clear. Among other things, some parking garages on the coast were flooded with water that reached up to the car roofs. Sheriff Kevin Rammbock from Florida made it clear in a Facebook video that the hurricane was not over despite decreasing wind strength in the area. The region in southwest Florida is still expecting the storm surge in the afternoon (local time). "And by all appearances, this is going to be a storm surge that we've never dealt with," he said in the video. ABC7 News , meanwhile, tweeted a video of the flooded garages:
Another LX News Twitter video also shows footage of severely flooded streets, apparently from the city of Naples:
Meanwhile, Gov. Ron DeSantis warned in a press briefing Wednesday that the more than 200,000 reported power outages in the state of Florida are just "a drop in the bucket" for what's to come if the storm makes landfall at any moment. This was reported by Fox News .
Hurricane "Ian": Footage from storm chasers shows violent hurricane gusts in Florida
Update from September 28, 7:50 p.m .: Recordings from Reed Timmer, another storm chaser in the USA, show the intensity of hurricane "Ian" in the center of the storm that is currently raging in Florida. Timmer posted a video of Pine Island, the largest island on Florida's Gulf Coast, on Twitter. On it you can see: Extreme hurricane gusts that palm trees seem to be able to withstand and strong waves that spill over the shore. The waves hit a nearby building where the storm chaser appears to be.
Meanwhile, Naples, Florida authorities have imposed a citywide curfew, CNN reports. The hurricane is rapidly approaching the coastal city in the southwest of the US state, the lock is for the benefit of the population. "There are extremely dangerous conditions on the roads," he told the broadcaster. The National Hurricane Center is currently reporting wind speeds of 180 kilometers per hour in the region.
Hurricane "Ian" spreads across central Florida – fear of storm surge increases
Update from September 28, 6:27 p.m.: The effects of the hurricane in Florida are currently increasing. According to PowerOutage.us , more than 330,000 customers have been affected by a power outage.
Meanwhile, in the city of Cape Cora on the west coast of the US state of Florida, fears of a storm surge with catastrophic consequences for the region are growing. The city's mayor told CNN that "this will have the greatest impact on the safety of human life, and that's very worrying." Especially since the city is at the heart of the storm. Should it reach a height of sixteen to eighteen feet, it would be "definitely catastrophic for the area," he says.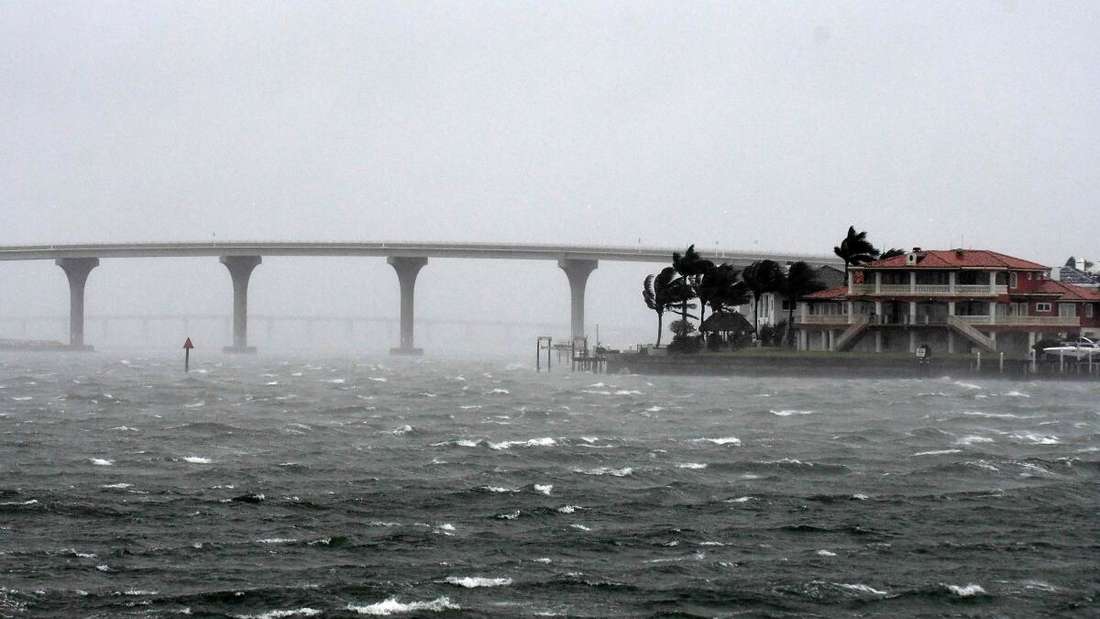 Florida is currently being hit by hurricane-force winds that are beginning to spread inland across central Florida, CNN further reports. An extreme wind warning has been issued for the cities of Sarasota and Charlotte, also on Florida's west coast, for the next two hours, which speaks of an "extremely dangerous and life-threatening situation".
Update from September 28, 5:14 p.m .: The hurricane is getting closer to the US state of Florida. The south-west airport in Fort Myers reported gusts of almost 100 km / h.
Hurricane "Ian" now reaches wind speeds of up to 250 km/h
Update from September 28, 1:13 p.m .: "Ian is strengthening rapidly" – according to the latest data from the National Hurricane Center, the wind speed is now 250 km/h. Hurricane "Ian" thus almost reaches category 5 on the Saffir-Simpson hurricane wind scale.
"Hurricane Ian could cause catastrophic storm surges, winds and flooding across the Florida peninsula," the National Hurricane Center said. The hurricane will make landfall during Wednesday afternoon.
Category 4 Hurricane (Very Strong) : Winds 135 to 155 mph; Rise in water level 3.8 to 5.4 meters.
Hurricane category 5 (devastating) : wind > 251 km/h; Rise of the water level over 5.5 meters.
"It's a big, big storm. There will be major damage, including to the infrastructure. The power will also go out," said Florida Governor Ron DeSantis at a press conference. He warned residents to heed local authorities' warnings and not go outside until the storm has passed.
Hurricane alert in Florida: TV presenter warns drastically – "You can't survive that"
Update from September 28, 10:41 am : Hurricane "Ian" is moving relentlessly towards Florida's coast. Florida Governor Ron DeSantis urges the population in risk areas to get to safety as a matter of urgency. "This is their last chance." At first it is unclear exactly how the hurricane's track is going. No one should take the current situation lightly. A moderator at Fox News broadcaster makes this clear with drastic words. He makes an absolutely grim prognosis.
"See that? Melbourne, Daytona Beach all the way to Jacksonville," a Fox News presenter explains a chart forecasting the hurricane's path. But what if the hurricane moved 20 miles west, he asks viewers. He provides the answer right away: "All of you are dead. You can't survive that. It is not possible. Unless they're just very, very lucky. And your children will die too."
With the comment "most intensive weather transmission of all time" a user shares this gloomy forecast on Twitter. The clip has since been clicked on more than 6.8 million times.
| level/category | wind force |
| --- | --- |
| Tropical low | from 62 km/h |
| tropical storm | 63 – 118 km/h |
| Category 1 hurricane | 119 – 153 km/h |
| Category 2 hurricane | 154 – 177km/h |
| Category 3 hurricane | 178 – 208km/h |
| Category 4 hurricane | 209 – 251km/h |
| Category 5 hurricane | from 252 km/h |
Hurricane Ian: 2.5 million people have to evacuate their homes
Update from September 28, 9:25 a.m .: "This is a life-threatening situation," says the US weather service NOAA. Hurricane Ian is the first major hurricane to hit the west coast of Florida this year. Its track has recently shifted slightly to the east again, moving further away from Tampa Bay and approaching Cape Coral, a less densely populated area.
2.5 million people have fled their homes in high-risk coastal areas, the Miami Herald reports. The wind pushes masses of water against the coast, so storm surges of up to four meters can be expected. Heavy rainfall – sometimes 600 liters of rain per square meter – could be in parts of Florida. The US Weather Service has also issued a tornado warning. Two tornadoes have wreaked havoc at a North Perry airport. Several small aircraft are damaged. Miami International Airport will remain open until further notice. The hurricane is already making itself felt with heavy rainfall and strong gusts of wind.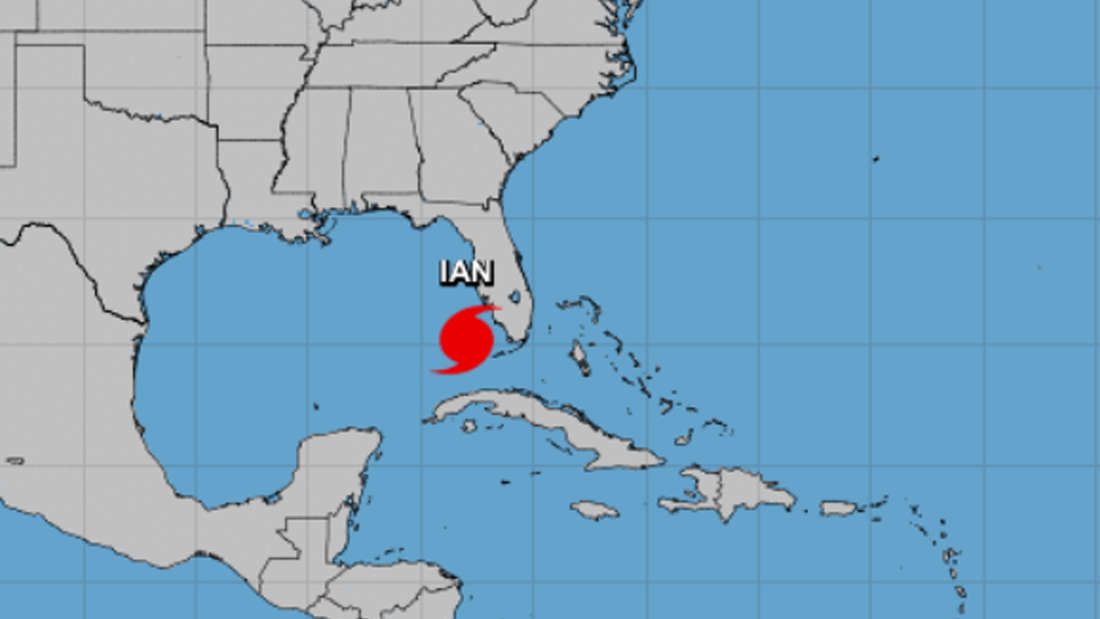 Hurricane Ian continues on course for Florida
Update from September 28, 6:19 a.m .: Hurricane "Ian" is currently over the Gulf of Mexico, the US weather service said. The hurricane continues to head for Florida, as can be seen on current satellite images.
"Ian" will cause a life-threatening storm surge, catastrophic winds and flooding across the Florida Peninsula, authorities warn on Twitter. A storm surge warning has been issued for the Lower Florida Keys. Experts believe Ian will make landfall as a Category 3 or 4 hurricane.
Update from September 27, 5:12 p.m .: The dangerous hurricane "Ian" has reached Cuba and caused flooding and damage there. With sustained wind speeds of up to 205 kilometers per hour, the hurricane hit land near the town of La Coloma in the west of the Caribbean island early Tuesday, as the US Hurricane Center (NHC) announced. After Cuba, the storm center was expected in the nearby US state of Florida.
Social media users reported a terrifying night from the hard-hit areas of western Cuba. A video showed a house flooded during heavy rain because the roof was missing. Flooded streets and fallen trees were seen in several locations in pictures.
Communication with the people affected was restricted, according to reports on state television, internet access and telephone connections failed in some places. It appealed to the solidarity that Cubans are known for. The storm also made itself felt in the capital, Havana, with rain and strong winds. In view of the general lack of many products and basic necessities, the residents were only able to make makeshift preparations. In addition, many houses in Cuba are in a state of disrepair and were therefore ill-equipped for a storm.
Hurricane Ian makes landfall in western Cuba
Update from September 27, 10:55 a.m .: Hurricane "Ian" hit land in western Cuba with wind gusts of around 205 km/h.
Hurricane "Ian" hits Cuba: Peak gusts of around 205 km/h – Florida evacuates 300,000 people
Florida, meanwhile, has issued an evacuation order for Tampa residents. 300,000 people are affected. Authorities warn that other regions and cities will follow in the next few days. The situation could quickly deteriorate. Hurricane Ian has been gaining strength in the past few hours. Ian could develop into a Category 4 hurricane over the warm waters of the Gulf of Mexico.
Hurricane Ian upgraded to Category 3
Update from September 27, 7:51 a.m .: Hurricane "Ian" will soon make landfall in Cuba, the US weather agency's National Hurricane Center tweeted on Tuesday morning. According to current data, the weather experts now estimate the wind speed at 185 km/h – sometimes even higher. This makes Ian a Category 3 hurricane.
Tropical storm "Ian" develops into a hurricane: Cyclone heads for Florida – state of emergency declared
First report from September 26, 2022
Miami – The US state of Florida is already declaring a state of emergency. Tropical Cyclone Ian is heading for the coast. The tropical storm continues to increase in strength. "Ian" is expected to become a hurricane on Monday and continue to gain strength as a result, the US Hurricane Center (NHC) announced on Monday.
Hurricane "Ian": This course is taken by the tropical storm
Weather officials are watching "Ian" very closely. It's the fourth hurricane of the season. The tropical storm will first hit parts of Cuba and Jamaica. Tropical storm Fiona had previously caused devastation in the Caribbean.
"Ian" is moving at a speed of 22 kilometers per hour, according to INSMET. According to the Cuban weather authorities, the tropical storm will reach wind speeds of up to 120 km/h. The storm center west of the Cayman Islands is therefore heading for the island.
The hurricane will hit the Florida coast in the middle of the week, the NHC said in a recent forecast. This also causes further problems with the "Artemis" moon mission.
US Hurricane Center warns of extreme storm surges
Strong winds and heavy rain are to be expected, especially in the western part of Cuba. The water level there could rise up to four meters above normal. The area around the capital Havana was also affected by tropical storm conditions. The expected large amounts of rain could cause flash floods and mudslides in higher areas of Cuba as well as Jamaica.
Hurricane Ian: US President postpones trip to Florida
According to the information, heavy rain, flash floods and flooding are also expected in Florida by the middle of the week, first in the Florida Keys island chain and then further north. The governor of the southeastern US state, Ron DeSantis, declared a state of emergency as a precaution and called on the population to take precautions. US President Joe Biden, who wanted to travel to Florida for a campaign event on Tuesday, postponed the trip because of the storm. (ml/dpa)