Hurricane Ian continues to wreak havoc in Florida, with the death toll rising. It is being discussed whether reconstruction in the hard-hit areas makes sense. The news ticker.
State of emergency after Hurricane Ian : Rescue teams continue to search for survivors in the rubble.
Hurricane Ian kills more than 100 people : Allegations of late evacuation are raised
Hurricane Ian -hit Florida : Does Rebuilding Hard-hit Areas Make Sense?
This news ticker on Hurricane Ian is updated regularly.
Update from October 4, 8:25 p.m .: US President Joe Biden will visit the state of Florida, which was badly hit by Hurricane "Ian", on Wednesday (October 5). The President and his wife Jill want to get an idea of the extent of the destruction caused by the hurricane that hit the state in the southeastern United States last week.
Update from October 4, 9:17 a.m .: At least 94 people died in Florida (USA) in Hurricane "Ian" according to official data from the authorities. Rescue teams were still looking for victims and survivors on Sunday. Again and again the dead are recovered from the rubble. Five days after the hurricane, the extent of the damage is slowly becoming apparent. The coastal cities of Naples, Cape Coral and Fort Myers are still in a state of emergency. There is no electricity in many parts.
State of emergency after Hurricane Ian: rescue teams continue to search for survivors in the rubble.
On Monday (October 3rd) the sun will shine. It's a perfect beach day in Fort Myers Beach, writes the Miami Herald . Looking at the rubble, it's hard to believe that nature was responsible for all the destruction. "We end up in this paradise, but next to us is an apocalypse," the firefighter said in the Miamiherald . He was with Task Force 2, which had arrived in Fort Meyers Beach before dawn on Thursday. Even at this point, the teams began to search for survivors. Many people on the island did not follow the evacuation.
Hurricane Ian made landfall on Florida's west coast on Wednesday (September 28, 2022). Previously, "Ian" met in Cuba (September 27).
A Category 4 hurricane, Ian swept across the peninsula with winds of 150 mph. Inland, it caused flooding.
On Thursday morning, the National Hurricane Center downgraded Ian to a 100 km/h tropical storm.
On Friday afternoon (September 30, 2022) the hurricane hit the US state of South Carolina with wind speeds of 140 km/h. The storm subsequently weakened before dissipating over Virginia on Saturday night.
Hurricane "Ian": Allegations to the authorities – Late evacuations and over 100 deaths
Update from October 3rd, 8:26 p.m .: Hurricane "Ian" left a lot of damage and many deaths. CNN reported 104 fatalities who died in connection with the hurricane. 100 people in the US state of Florida and four in North Carolina. Meanwhile, criticism is growing that the authorities ordered the evacuation too late. The New York Times reported that citizens in Lee County received such a notification a day later than other counties.
Lee County, which includes the city of Fort Myers, was one of the hardest hit by the hurricane, with many fatalities. Those responsible spoke out about the allegations that the evacuation was too late. That's how Lee County Commissioner Kevin Ruane defended himself against the allegation. "As soon as we saw the model shift northeast, we did exactly what we could to encourage people to evacuate," he said on Sunday (local time).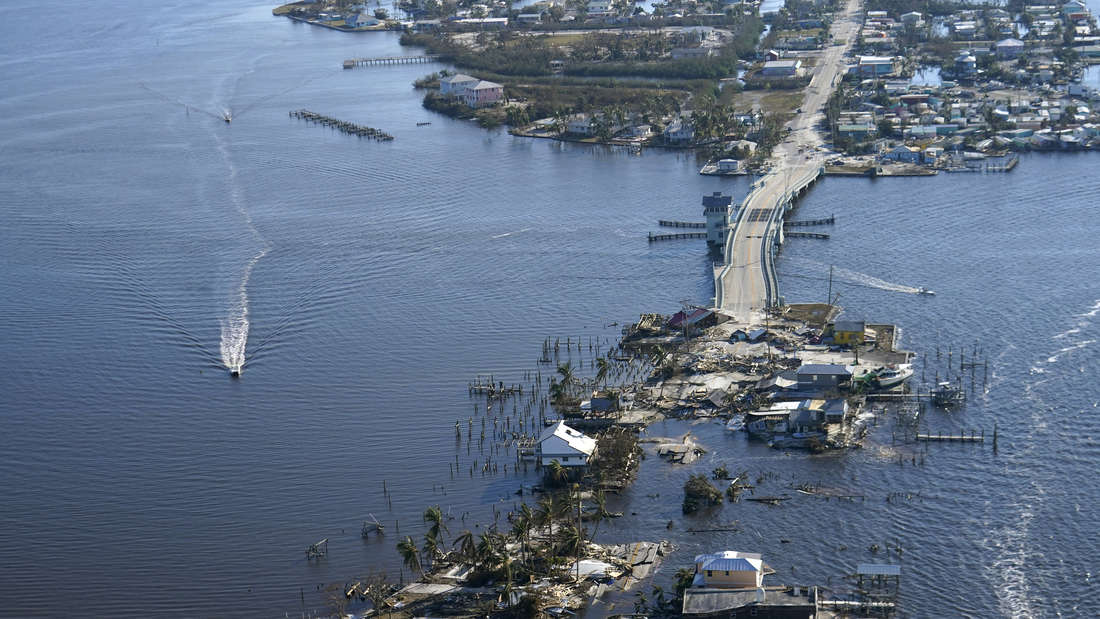 Lee County Sheriff Carmine Marceno also supported the decision in a press conference on Monday (local time). "I am confident that our district chief, our executives, our governor and all of us in law enforcement took this message at the right time," he said. Weather models initially calculated a different direction for the hurricane. As the storm changed its route, people in the affected area were warned.
After Hurricane "Ian": The death toll continues to rise – President Biden visits affected areas
First report from October 3: Miami – "Ian" made landfall in Florida last Wednesday (September 28) as a level four of five hurricane. He left death and destruction in his wake across the state. According to local authorities, around 80 people have died so far, according to the New York Times and CBS . At least 42 people were killed in Lee County alone, where "Ian" hit land with winds up to 150 miles per hour, Sheriff Carmine Marceno said Sunday.
Hurricane "Ian": debate about the point of expensive reconstruction in affected areas
The drama isn't quite over yet. Water levels continued to rise in some towns in central Florida on Sunday, according to FEMA chief Deanne Criswell on US television. This is one of the reasons why rescue efforts and clearance work are continuing in the affected areas. The Coast Guard rescued more than 300 people, some from roofs and trees, and a good 80 pets with helicopters, among other things. In all, more than 1,100 people were recovered alive, Governor Ron DeSantis said.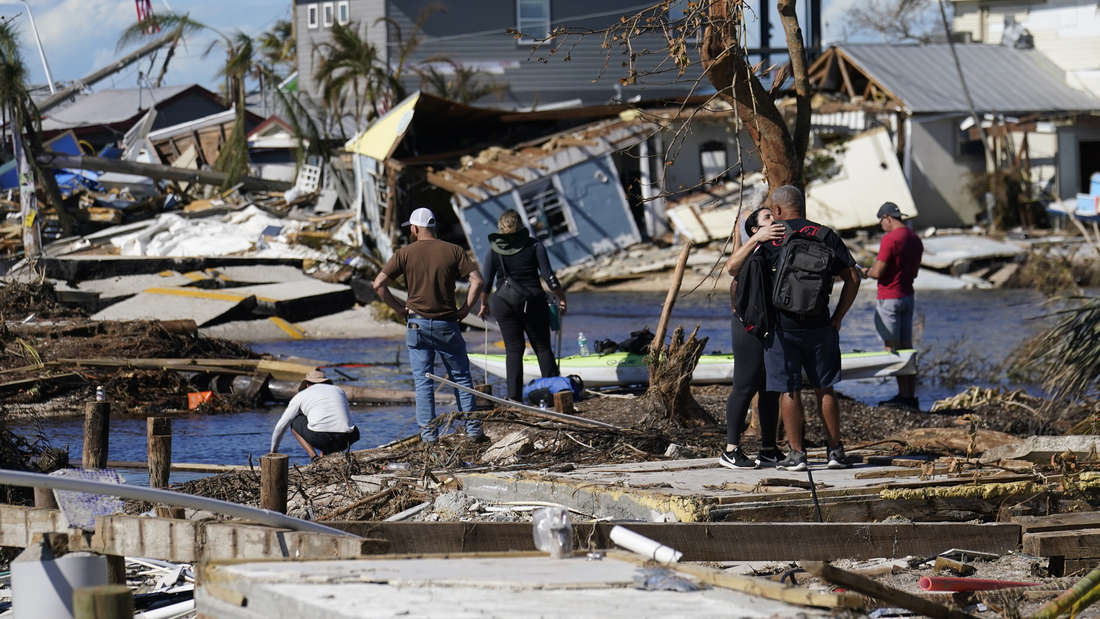 The damage to property is also enormous, hundreds of thousands of households are still without electricity. The authorities emphasized that the reconstruction will take months and sometimes even years. This sparked a debate about whether expensive reconstruction in areas with severe storms made sense in the long term. Fema boss Criswell said that strict building codes are necessary for buildings to be able to withstand the forces of nature. Fort Myers Mayor Kevin Anderson told CBS that new buildings have mostly survived the hurricane.
Hurricane "Ian": Deaths also in North Carolina and property damage in South Carolina
After Florida, "Ian" first went out to sea, regained some strength there and reached the coast of South Carolina on Friday with wind speeds of around 140 kilometers per hour. A few hours later, the winds weakened to around 95 kilometers per hour. The state was spared from deaths, said Governor Henry McMaster.
The power went out for more than 500,000 homes in South and North Carolina and Virginia, partly because falling trees severed the lines. In North Carolina, however, even with weakened winds, "Ian" still cost four people their lives, as Governor Roy Cooper said.
| level/category | wind force |
| --- | --- |
| Tropical low | from 62 km/h |
| tropical storm | 63 – 118 km/h |
| Category 1 hurricane | 119 – 153 km/h |
| Category 2 hurricane | 154 – 177km/h |
| Category 3 hurricane | 178 – 208km/h |
| Category 4 hurricane | 209 – 251km/h |
| Category 5 hurricane | from 252 km/h |
The hurricane largely lost strength over the weekend. Foothills caused rainfall on the US east coast as far as New York.
Hurricane Ian: Joe Biden visits affected areas
US President Joe Biden will fly to Florida and Puerto Rico in the next few days to get an idea of the hurricane damage. The White House announced that Biden would first travel to Puerto Rico, which was hit by Hurricane Fiona, on Monday. Two weeks after the storm, some households are still without electricity. About 90 percent of the failures have been fixed, said Fema boss Criswell.
Biden wants to travel to Florida on Wednesday. The White House had announced that it would support those affected without flood insurance with up to $40,000.