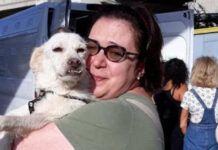 A woman fulfilled her dream of having a pet and drove an extra seven hours to Bulgaria to pick up a dog. Her story touches many Facebook users.
Stuttgart/Bulgaria – Living with an animal roommate is a dream for many people and can also be quite an enrichment. Because a study from the USA showed that having a pet could help keep your mind sharp in old age. And the number of pet owners in Germany is growing. According to statistics from the Industry Association for Pet Supplies (IVH), 34.7 million dogs, cats and the like lived in households in 2021.
Especially during the corona pandemic, many people have decided to get a pet. But a little later, this also meant that animal shelters were no longer able to save themselves from animals after the corona lockdown. In the homes, the animals then often wait a long time for a new owner. But there is always a happy ending for them too, as a touching story about a dog from Bulgaria shows.
Emotional journey: Woman adopts dog from Bulgaria and drives 7 hours for it
A post on the Facebook page "Tiengel Bulgaria" shows how great the love for an animal can be and what some people go through with it. After a woman fell in love with a dog from the Balkans at first sight, she didn't hesitate for long. "I drove 7 hours to adopt my baby boy that I saw on Facebook," read a post on the site.
Apparently many didn't want the dog because of his looks. The four-legged friend is 14 years old and has crooked teeth, the article says. And yet he has now found a happy mistress. "Today we have become a family.
I'm still crying that I'm finally holding it in my arms," the new owner is quoted as saying.
"So beautiful": The Facebook community is touched by the woman's dog adoption
The story of the Bulgarian dog and his new mistress, who had to drive an extra seven hours, also touched the users on the Internet. "So nice for you. Wish you a long and wonderful time together," writes one user, among other things. "Great job, I like to read something like that", or "It makes your heart open", say other users.
And there is also recognition and praise for the woman. "What a great woman. She takes the dog nobody wants. Thank you very much, unfortunately there are very few such people of the heart," comments one user. "A woman with a heart for animals, wish you many nice days," writes another user. Many in the Facebook community also think it's great that the woman decided to get a dog from the animal shelter and was therefore able to fulfill her dream of having a pet.