Is this going too far? Queen Elizabeth II benefited from a host of legal exceptions, which now pass to her heir, King Charles III. pass over There are more than 160 laws that do not apply to the new king.
London – Since 1967, personal exemptions for Queen Elizabeth II (96, † 2022) have been enshrined in more than 160 laws, granting her far-reaching immunity beyond British law and order. Animal welfare is affected, but so are employee regulations. A particular thorn in the side of many is the protection of private property, which Charles III now has. (73) granted unique protection as the owner.
Constitutional experts warn that not all people are equal before the law
The Queen's sweeping immunity from more than 160 laws. More than 30 different statutes stipulate that police may not enter the private estates of Balmoral and Sandringham to investigate suspected crime without the monarch's permission . Police are also required to obtain the Regent's personal consent before investigating crimes at their private salmon and trout fishery on the River Dee in Balmoral. If you want to cast your line there, you pay up to 723 euros per day.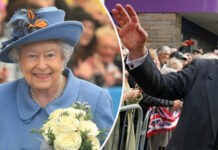 "There is a clear pattern and they largely relate to the monarch's economic interests," said Thomas Adams, an associate professor of law at Oxford University who has studied the Guardian's findings since the Queen's time. Charles is completely exempt from inheritance tax. Through the death of his mother Elizabeth II, he inherited the estate of the Duchy of Lancaster worth over 747 million euros. He would not incur the otherwise applicable 40 percent inheritance tax that would normally have to be paid.
The immunity of anti-discrimination laws is particularly controversial
The most controversial exemptions prohibit the Regent's employees from suing sexual and racial discrimination. Even the most modern anti-discrimination law, the Equality Act 2010, is not designed to adequately protect the King's employees. As a private employer, the king is exempt from complying with various employee rights, health and safety or pension laws. According to the Guardian, he is not required to comply with the Health and Safety at Work Act 1974.
Perhaps out of concern that such exceptions might be controversial or unacceptable to the British public, the Queen's immunity from anti-discrimination laws has typically been opaquely worded. The same applies to the other exceptions that circumvent clear legal formulations. The fact is that displeasure with the situation is growing, even if nobody seriously accuses King Charles of illegal activities. Even before the Queen's death, Charles was seen as a threat to the monarchy. Sources used: theguardian.com