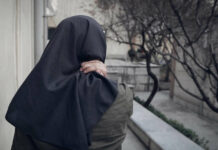 Protests in Iran are increasing. Human rights groups warn that forced confessions are increasing as hijab laws are tightened
Tehran – In the past week there have been protests and condemnations in Iran. This was in response to the arrest of an Iranian woman for defying new, tightened hijab laws. She then made a confession on state television. According to observers, this was forced by torture.
According to The Guardian , Sepideh Rashno, 28, was arrested in July shortly after footage of her being harassed on a bus for being "inappropriately dressed" surfaced online. Rashno, a writer and artist, is among a number of women arrested following the launch of a national "Hijab and Chastity Day" on July 12.
Iran: Women's dress code law to be tightened
According to human rights group Hrana, shortly after her arrest and before her TV appearance, she was taken to hospital with internal bleeding. Iranian women have been required to wear hijab in public since the 1979 Islamic Revolution. But President Ebrahim Raisi signed an executive order on Aug. 15 enforcing the country's dress code law with a new list of restrictions, according to The Guardian .
According to Hrana, who reports an increase in forced confessions in Iran, in the days before and after July 12, five women were arrested for breaking the dress code and four were forced to confess. They also reported that three women were arrested for dancing in public, 33 hair salons were closed and 1,700 people were summoned to police centers on hijab-related grounds.
Iran: Woman arrested and tortured for hijab
After her arrest, Rashno appeared on state television on July 30 wearing a headscarf to apologize. In the footage, Rashno looks pale and dejected with dark circles around his eyes.
"There were clear signs of physical beatings on her face," Hrana's Skylar Thompson said. "It is clear that in addition to the psychological torture of being forced to confess, she was also physically beaten." Rashno remains in custody, Hrana said. (Ares Abasi)