Flower delivery for a "Miss M". Florist Lynn from Montecito came to Meghan Markle and Prince Harry's house with a bouquet. She found herself in a kind of "military" security zone.
Montecito – Meghan Markle (41) and Prince Harry (38) have made themselves comfortable in a chic villa in the exclusive area of Santa Barbara with their children Archie (3) and Lilibet (1) after their move in January 2020. However, they cannot be completely satisfied, because on the one hand there are rumors that the couple is looking for a new home. Local residents describe the Sussexes' current home as extremely secluded, even having a "military" vibe.
Florist Marcello Ross jokingly says, "It's like Fort Knox up there!"
The ducal couple's $14 million Montecito estate is like "Fort Knox," flower shop clerk Marcello Ross, 42, told British Express. Florist Lynn had a flower delivery for Meghan and could only agree: " So I came up and said I'm here to deliver flowers. Then I was told to drive to the next gate and they kept the camera watching me the whole time."
The Duke and Duchess of Sussex could spend a whopping £3 million a year on security, according to Forbes magazine . Numerous celebrities such as US actress Gwyneth Paltrow (50), singer Ariana Grande (29) and Harry's compatriot Orlando Bloom (45) live in Montecito, which also makes the area attractive for burglaries.
Meghan Markle and Prince Harry worried about their safety
US media reported in the summer that Harry and Meghan had to call the police to their home in Montecito six times. As "The US Sun" reported, the security alarm was triggered twice within twelve days on their property in May alone. But there can also be completely different reasons, especially since the security situation in Hope Ranch, only 17 kilometers away, is unlikely to be any different.
"The gate opened. You can't even see the house, it's so far back"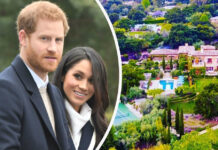 Lynn continues: "Then guys show up. It's like in the military!" She explains that she likes to put the finishing touches on her flower arrangement on site, the letter was addressed to "Miss M". Apparently she was treated as if she were planning an attack on the house. "Can you imagine living like this?" she asks in horror after she's vented.
This is in stark contrast to Meghan's own statements, which have described her luxury home as a "tranquil" and "healing" place. But although they were initially overjoyed to have their mansion approved, Meghan Markle and Prince Harry are reportedly back home hunting at Hope Ranch, which hasn't pleased neighbors who fear unrest from the Sussexes' move. Sources used: express.co.uk, forbes.com, Instagram