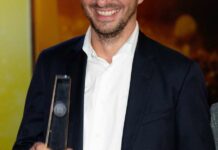 Presenter Jan Böhmermann can look forward to a television award in the category "Best Entertainment Book" again this year. His team "obviously hasn't gotten any worse," he said.
Cologne – satirist Jan Böhmermann (41) can call another German television award his own. The moderator won the award on Tuesday evening in Cologne in the category "Best Book Entertainment" for the script for his show "ZDF Magazin Royale".
Along with Böhmermann, his colleagues Hanna Herbst and Nora Nagel and his colleague Markus Hennig were also honored with the trophy. The "ZDF Magazin Royale" copywriters around Böhmermann had already cleared the same prize last year.
Böhmermann spoke of a "déjà vu" and concluded that his team had "obviously not gotten any worse". "That's pretty good," he said. "Last year, however, we stood behind the stage for two hours in the cold." He thinks it's great that there is now a "real award ceremony".
Böhmermann was alluding to the changed concept at the presentation of the German Television Prize. It will be awarded on two consecutive gala evenings in 2022. The whole thing is equalized and the individual award winners get more space.
On Tuesday, jobs behind the camera were honored in the "Night of Creatives" – such as "Best Director", "Best Camera" and "Best Equipment". The show was produced in Studio Ehrenfeld in Cologne – which is also where the "ZDF Magazin Royale" is normally produced. A second gala follows on Wednesday, designed as a big primetime show.
Two prizes for "The Passport"
The Sky series "Der Pass" and the ARD series "Eldorado KaDeWe – Now is our time" were particularly successful on the first evening, each bringing in two prizes. "Der Pass" won in the director (Cyrill Boss, Philipp Stennert) and camera (Philip Peschlow) categories. "Eldorado KaDeWe – Now is our time" prevailed in terms of equipment (Petra Albert) and music (Inga Humpe, Tommi Eckart, Matthias Petsche).
In the category "Best Fiction Book" Magnus Vattrodt and Paul Mommertz won for "Die Wannseekonferenz" (ZDF), in "Best Editing Fiction" Friederike Weymar won for "Schneller als die Angst" (ARD). In the show division, Johannes Spiecker for "Who is stealing the show from me?" (ProSieben, "Best Director Entertainment") and Envy Peru and Bambi Mercury for "Viva la Diva – Who is the Queen?" (RTL, "Beste Amenities Entertainment") looking forward to trophies. In information, Katharina Schiele and Lucas Stratmann won awards for "Kevin Kühnert and the SPD" (NDR, "Best Camera Information/Documentation") and Janine Dauterich for "Gladbeck" (Netflix, "Best Editing Information/Documentation").
The German Television Prize has been awarded for outstanding television performances since 1999. It is carried by ZDF, Sat.1, ARD, Deutsche Telekom and RTL. dpa