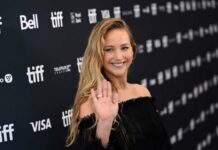 Lawrence plays an Army veteran in the drama Causeway. The fact that the story of the film also touches the actress personally becomes clear at the world premiere in Toronto – tears even flow.
Toronto – Leaving home at the age of 14 helped US actress Jennifer Lawrence with her emotional performance in the drama 'Causeway.'
Director Lila Neugebauer's film celebrated its world premiere at the 47th Toronto International Film Festival (TIFF). Lawrence plays an Army veteran returning from Afghanistan after suffering a traumatic brain injury and struggling to reintegrate into society.
"I identify with that feeling when you're trying to find your home, when you want meaning. I left home when I was 14. My relationship with home has always been complicated," Lawrence said to an enthralled audience after the world premiere. The Oscar winner burst into tears on stage and said: "That moved me a lot." dpa