Many people are annoyed by wasps – especially when they want to eat outside in peace. But killing the animals is forbidden and can be expensive.
Dortmund – Wasps are annoying and often an absolute mood killer in the garden. There are numerous life hacks to get rid of the insects. But consumers should rather do without some.
| | |
| --- | --- |
| insect | wasp |
| species | including real wasp, common wasp, German wasp, wood wasp |
| fine for a homicide | Up to 65 thousand euros |
Killing wasps is forbidden: a fine of 65,000 euros is imminent – with one exception
By law, consumers shouldn't kill wasps, no matter how annoying they are. The Federal Nature Conservation Act therefore states: "It is forbidden to willfully alarm wild animals or to catch, injure or kill them without good reason" (more service news at RUHR24).
Thus, consumers are not allowed to remove, destroy or even smoke out wasp nests, as reported by bussgeldkatalog.org . Anyone who does not comply with the law must expect a fine in Germany, reports RUHR24. However, it should depend entirely on which wasp species it is. Because with specially protected wasp species, such as hornets, Saxon or Gallic wasps, it should be even more expensive.
Anyone who kills such wasps in Germany must expect a fine of 65,000 euros. The same also applies to destroying and damaging breeding sites or resting places – at least when no valid reason can be demonstrated. However, there is a reason why consumers are allowed to kill the animals.
Killing wasps is forbidden: Expensive fines do not apply to all consumers
A special regulation should apply to allergy sufferers, because they can take action against the wasps. Since there is no guarantee that these people will not be life-threatening afterwards, they are allowed to kill the animals. Other consumers, on the other hand, can seek professional help.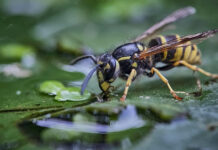 Exterminators or environmental protection associations should also be able to intervene in some cases. This applies, for example, if a wasp hole was found outside of a kindergarten. But even if the house of local residents is so affected by the plague that they can no longer enter the house, help is needed. However, it is often enough to keep the wasps away with a water trick. This usually saves consumers the hassle.