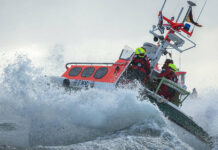 A kitesurfer held on to a level tower in the North Sea for almost three hours. Then the man discovered the crew of a ferry.
Norderney – The kitesurfer suddenly had serious problems with the wind at force 5. The water sportsman was just able to save himself on a level tower in front of Norderney, reports the German Society for the Rescue of Shipwrecked Persons (DGzRS) on Sunday evening.
North Sea: Kitesurfer saves on level tower
The kitesurfer had to wait for rescue for almost three hours on the level tower in the North Sea. The crew of a ferry discovered the visibly exhausted water sportsman and alerted the sea rescue service.
A woman had previously reported the kitesurfer missing. "She misses a kitesurfer who started about four hours earlier from the western beach of Norderney and has not returned so far, she reported to the security guards," said the DGzRS. The sea rescuers at the station there were then immediately alerted.
In addition, a navigator from the distress coast radio station asked ferries in the sea area to keep an eye out. A little later, the crew of a ferry actually discovered a man on a level tower. He drew attention to himself with a show of hands.
The sea rescuers on Norderney immediately took course with the boat "Emmi" to the structure located about two nautical miles south of the west beach.
On site, they took the visibly exhausted man on board. The sea rescuers brought the exhausted but unharmed water sportsman safely ashore.
Free safety app SafeTrx saves lives
In this context, the sea rescuers once again refer to their free safety app SafeTrx: "The app uses the GPS of the iPhone or smartphone to record the route of the water sports enthusiast. This can be queried directly in the DGzRS rescue control center in an emergency. When you call, the position is transmitted directly to the rescue control center at sea. In addition, important information can be queried in a route plan, so that even if the mobile coverage area is left, SafeTrx is an important source of information for the sea rescuers in an emergency. And further: "SafeTrx is available for free download in the Apple App Store and in the Google Play Store." (ml)
A vacationer from Bavaria drowned in front of Juist in September. He wanted to swim and apparently underestimated the currents of the North Sea.