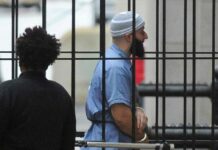 The first season of the crime podcast "Serial" was heard by millions. A US journalist examines the case of an American convicted of murder. Now he could actually be free.
Baltimore/Washington – The case of an American convicted of murder, who became known worldwide through the podcast "Serial", is moving again. The responsible prosecutor Marilyn Mosby requested on Wednesday (local time) a new trial for Adnan Syed, who had been sentenced to life imprisonment.
A nearly year-long investigation uncovered previously unknown information about two other suspects and doubts about the reliability of cellphone tower data, it said. It is questionable whether Syed was really found guilty. There is "no trust in the integrity of the conviction" – and it is therefore not fair to keep the 41-year-old in prison.
Syed maintains his innocence
Syed is said to have murdered his ex-girlfriend in 1999 when he was 17 and was sentenced to life in prison. His case was investigated in several episodes on "Serial" in 2014. The case was finally reopened legally and went through the instances – however, Syed was ultimately denied a retrial. He himself always denied the crime.
His ex-girlfriend, high school student Hae Min Lee, was last seen alive in January 1999 in the US state of Maryland. Her body was found in a park a month later. Lee's former partner and classmate Syed was convicted mainly because of the incriminating statements of an acquaintance.
Extremely successful podcast
The episodes of the first season of "Serial" were heard by millions of people. The documentary by US journalist Sarah Koenig was also extremely successful in Germany.
It is important not only to stand up vehemently for the victims of crime, but also to right past wrongs when the evidence is available, prosecutor Mosby now explained. It is up to the court to grant the request for a new trial. Syed's conviction would then be overturned, but the investigation continues, prosecutors said. dpa