After a hot summer, a warm autumn awaits us. Saharan air from the south extends late summer well into October, giving us warm days.
Kassel – Over 25 degrees in the third week of October. With this record-breaking weather, Germany saves on heating costs and stays in late summer meteorologically. The temperatures reaching us over Spain and France along with Saharan dust are not particularly autumnal and Monday (October 17) was "the warmest day of the rest of the year" according to meteorologist Jan Schenk. At best, the inconsistency could be described as autumn weather, because despite the Sahara air, rain regularly reaches us.
Weather in late summer: Sahara air brings over 20 degrees in October
The above-average temperatures will remain in large parts of Germany for almost the whole week. On Wednesday (October 19) it will be cooler, especially in the north-east, but from Thursday a new surge of warm air will reach the whole country and displace the cold. Meteorologist Jan Schenk assures: "The winter cold air is still very far away from Germany."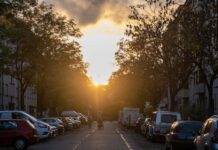 Even at the weekend it stays warmer than average and the 20-degree mark is regularly cracked. According to the German Weather Service (DWD), October 2022 will be the fifth warmest October since 1881. Incidentally, the warmest October since records began was 2001.
Rain and heat alternate this October
Despite the heat, one cannot speak of good weather everywhere, because rain occurs more frequently despite the high temperatures. So there will definitely be no talk of another drought. The rain often even heralds the warm-weather episode to follow. So October this year is mild and changeable and it gets foggy, especially in the mornings.
So we don't have to turn on the heating that much this October, but we can still get some light jackets and rain jackets out of the closet. In rural areas at most, it can get cold or even frosty at night, so these heating tricks can save costs. Good news: According to meteorologist Jan Schenk, the warm Sahara breeze from the southwest could even stay with us until November. (loud)