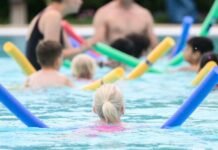 In the energy crisis, the water temperature in swimming pools should be lowered. But when children learn to swim, they should ideally have fun – but is that possible in cold water?
Bad Nenndorf – Many children struggle to swim in deep water for the first time, but having to do this in cold water is even worse.
In view of the energy crisis and lack of gas, some swimming pools have already lowered their temperatures or even closed completely, the German Life Saving Society in Bad Nenndorf warned. What worries the lifeguards with a view to autumn and winter: Will the number of non-swimmers increase in the future – again?
From an economic point of view, the reduction in water temperature in swimming pools can be understood, said DLRG spokesman Christopher Dolz. But: For swimming courses, a water temperature of 26 degrees should be the goal, which hardly stands in the way of beginner swimming training. It may take some children longer to learn to swim because they are cold and need more time. Olympic champion Florian Wellbrock already warned: "How do you want to teach a five or six-year-old that he has to go into the deep end and have fun learning to swim? In my view, that is not possible."
Less time in the water
According to the DLRG, if the water temperature drops below 26 degrees, other training concepts are necessary – with less time in the water. But it will take even longer for children to learn to swim – but colder water is preferable to a closed bath. But all of this only applies to the training of swimming beginners, said Dolz: "We don't need to talk about baby swimming or getting used to the water here, that would of course be unthinkable – it should be at least 30 degrees and more." Even at a water temperature below 35 The body slowly begins to cool down.
The Pool Alliance Germany, an association of industry stakeholders, submitted a position paper to the federal government in mid-July. In it, she called for a step-by-step reaction to the energy shortage – and initially to do without "high-temperature outdoor pools", then to only use the sports and teaching pools and finally to lower the temperature there to a maximum of 26 degrees.
Some cities are already using colder water
The German Olympic Sports Confederation recently called on the approximately 90,000 sports clubs in Germany to save at least 20 percent energy in the coming months. This should prevent swimming pools and sports facilities from closing. It is therefore becoming uncomfortable for swimmers in many pools: Cities such as Hanover, Munich, Aachen and Cuxhaven rely on colder water.
The problem: The proportion of non-swimmers is high. According to the DLRG, even before the corona pandemic with its pool lockdown, only around 40 percent of ten-year-olds were safe swimmers. "We assume that there are no more today," warned Dolz. This can be seen from the number of swimming badges that have been removed. In 2020, the trainers at the pool edge would have taken almost 75 percent fewer exams than a year earlier – after 92,913, the number fell to 23,458. Last year the number rose again to 38,112. Seahorses for youngsters fell to 14,566 in 2020 from 46,958 a year earlier. In 2021 there were 36,368 seahorses.
Lifeguard training also affected
Dolz spoke of a "training backlog" that has by no means been reduced, even though 2,000 additional courses had been launched. But the same applies here: if swimming pools are closed and there is a lack of water, the additional courses offered are of little use. Lifeguard training is also affected – in the current year it has sometimes been difficult to find enough lifeguards.
In addition, prices in swimming pools are likely to increase. To what extent this can also be expected for swimming courses would be "a look into the crystal ball," said Dolz. The approximately 2,000 local sections of the DLRG organize their swimming courses themselves, and some have long-term leases with the swimming pool operators. It is to be expected that these will raise their ticket prices in the future, but it is questionable whether this can be passed on to the clubs. The highest currently known price that has to be paid per hour for renting a lane in the swimming pool is around 75 euros.
In the extreme case of a swimming pool closure, it is not easy to keep parents and children enthusiastic about swimming, said the spokesman. But parents and children could do a lot themselves – and start getting used to the water at home in the bath or shower. dpa