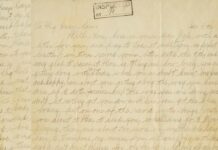 Pistols, medals, cigarette cans: Hundreds of souvenirs of the notorious mafiosi were auctioned off in Los Angeles. A handwritten letter from gang boss Al Capone also went under the hammer.
Los Angeles – A letter handwritten by mob boss Al Capone and a medal that once belonged to crime boss Meyer Lansky are among hundreds of items that have been auctioned off in California. The Gangsters, Politicians, Cowboys and Astronauts auction included guns, letters, clothing, furniture, photos and other mementos of famous and notorious people.
A three-page letter that crime king Al Capone (1899-1947) wrote from his cell in the notorious Alcatraz prison to his only child, Albert Francis 'Sonny' Capone, has been auctioned for $44,800. The same amount was paid by a bidder for a medal given to underworld boss Meyer Lansky by US President Harry S. Truman in a secret ceremony in the White House in 1945. Lansky's (1902-1983) contacts to Mafia colleagues in Italy, who had helped the Allies there in World War II, were thus acknowledged.
A collection of 17 bow ties owned and worn by Lansky fetched nearly $7,000. A silver cigarette case, gifted to Lansky by mobster Benjamin "Bugsy" Siegel, fetched $6,400 at auction.
The pieces came from the possession of Jay Bloom, the former director of a mafia museum in Las Vegas. In the early days of the gambling city in the US state of Nevada, the mafia had a great influence there. Movies like "Bugsy" and "Casino" revolved around the underworld deals in Las Vegas. dpa