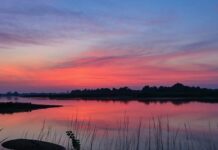 Experts are still puzzling as to why masses of fish died in the Oder – the guess is algae poison. Warm-blooded animals living on land are therefore unlikely to be affected.
According to experts, the massive fish kill in the Oder does not pose a direct threat to many land animals. "According to current knowledge, only cold-blooded animal species are affected, such as fish, mussels and snails," says Dirk Treichel, head of the Lower Oder Valley National Park. The so-called cold-blooded animals include fish, amphibians and reptiles, but not birds and mammals.
There have already been various other cases of mass fish deaths worldwide due to the algae poison found in the Oder, said Christian Wolter from the Berlin Leibniz Institute for Freshwater Ecology and Inland Fisheries. "Similar disasters have not been reported to affect warm-blooded animals."
In the past few weeks, dead fish have been discovered and collected in large numbers on the Polish and German sides of the Oder. The cause of the fish kill is not yet clear. However, a toxic alga was found in water samples in both Poland and Germany.
According to Treichel, in addition to hundreds of tons of dead fish that have already been recovered along the Oder, there are now also huge carpets of dead water snails near the shore. Many dead mussels also float to the surface of the water. dpa