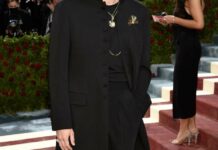 The British musician reports on experiences of abuse in his childhood. Therapy helped him deal with it.
Berlin – British rock singer Marcus Mumford has spoken about dealing with his childhood abuse experiences. "I was very troubled. As if someone had put weight cuffs on me everywhere that I was never allowed to take off," said the 35-year-old to the magazine "stern".
Luckily, he's started therapy, Mumford said. "It felt like I could finally shed some weight. It was so relieving."
According to the singer, the therapy started a process. "I did everything to avoid pain or to relieve it. But in an unhealthy way: with alcohol, food and by hiding my inner self. The result? Countless calcified layers of shame," Mumford said. "But when you wear them off, you feel freer."
The frontman of the British folk rock band Mumford & Sons had spoken about childhood abuse experiences two weeks ago. He was sexually abused at the age of six, the musician told GQ magazine. He also processes the experiences in the song "Cannibal" (Kannibale), which is part of his first solo album "self-titled", which will be released in September.
The 35-year-old has been married to British actress Carey Mulligan (37, "Promising Young Woman") for ten years, with whom he has two children. dpa