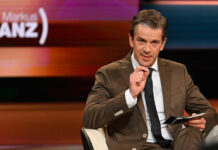 Markus Lanz is talking to his guests on ZDF this Thursday. We'll tell you which people are on the show this time.
Hamburg – Markus Lanz has guests this Thursday (September 15) with whom the ZDF presenter will talk about political or social issues. In the past show, Lanz spoke to Friedrich Merz, among others. This time there are a total of four people with whom the talk show host will converse on the show.
Alexander Graf Lambsdorff, politician
The FDP foreign policy expert comments on the war in Eastern Europe and the recent military successes of the Ukrainian army. He appealed: "Support for Ukraine must be increased."
Diana Zimmerman, journalist
The long-time head of the ZDF studio in London talks about the situation in England after the death of the Queen and after Liz Truss' first days in government as the new Prime Minister.
Liana Fix, political scientist
The Russia and Eastern Europe expert comments on Moscow's possible reactions to the Ukrainian counter-offensive and on the attitude of the Russian population to the war.
Ralf Stegner, politician
The SPD politician is a member of the Foreign Affairs Committee. "In the end there has to be a diplomatic solution," he says, outlining his foreign policy strategy for achieving this goal.
The show can be seen on ZDF from 11:15 p.m. to 12:30 a.m. If you miss the show, you can watch the program afterwards in the media library. The show airs late at night Tuesday through Thursday. There is no fixed transmission time, the start of the talk show varies between 10:45 p.m. and midnight.
Markus Land: ZDF broadcasts have existed in this format since 2010
The ZDF television show "Markus Lanz" has existed in this format since 2010. Before that, Markus Lanz represented the moderator Johannes B. Kerner with his show. Usually four guests are invited, whom Markus Lanz addresses in the 75-minute program.
The people who come to Markus Lanz on the show are mostly from politics, the entertainment industry and sports. The moderator likes to invite guests from the sport, especially in programs following football broadcasts. Lanz sometimes polarizes with his moderation style, as he is known for interrupting his guests. Since the corona pandemic, there have been no viewers in the ZDF studio. (mse)