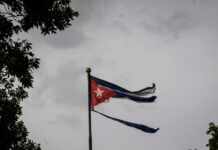 The hurricane has long since moved north, but many Cubans are still without electricity.
Havana – Three days after Hurricane Ian struck, power has still not been restored in large parts of Cuba. The state-owned electricity provider UNE announced on Friday that the "deficit in the power generation capacity" is expected to last all day. It was not disclosed how many people were without power. On Thursday it was said that ten percent of the connections in Havana had electricity.
"Ian" swept through western Cuba on Tuesday as a category 3 of 5 hurricane on its way towards Florida. It caused flooding, extensive damage and at least three deaths, according to the government. The full extent of the destruction was still unclear. First of all, the power went out in the affected areas, including in the metropolis of Havana. On Tuesday evening (local time) there was a nationwide failure.
No water at tropical temperatures
For many people, this also meant that they had no running water in the tropical heat, since electric pumps are used for this. The few food supplies that people have are in danger of spoiling – there is a food shortage in the socialist Caribbean country with around eleven million inhabitants.
Electricity supply in Cuba was extremely unreliable even before the storm. The infrastructure was in poor condition, and there were frequent outages. According to reports and videos on social media, there were several small protests on Thursday, including in several areas of Havana. As a result, internet access via mobile data also failed from the evening (local time) into the night.
Frequent power outages sparked anti-government demonstrations on July 11, 2021 – arguably the largest since the 1959 Cuban Revolution. Hundreds of participants were sentenced to prison terms of up to more than 25 years. dpa