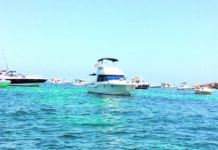 A hit among summer events on Spain's coast are the boat parties. What the mega celebrations can do in the highly stressed Mar Menor is in this article:
Cartagena – Boat parties on the Mar Menor on the Murcia coast are popular. Recently around 100 boats met for a mega party in a protected area of the Mar Menor, as reported by costanachrichten.com.
In Mazarrón, too, local residents complain about loud party boats that anchor illegally off the small islands off the coast and destroy the seagrass beds. The captain of the competent seaman's office in Cartagena makes it clear that wild anchoring in protected areas is "absolutely forbidden".