If it is very hot, you will quickly become thirsty and reach for water. However, this is not advisable for young babies.
Munich – Especially in summer you should always remember to drink plenty of water. With the high temperatures, the body loses a lot of fluid, which has to be reabsorbed – preferably in the form of water. But what about infants in the heat? An expert is appealing to parents not to give newborns water to drink.
Midwife: Water can cause problems for babies
Even when it's hot: In the summer, babies should not be given any water in the first few months, but only breast milk or baby food from the bottle. That's what midwife Franziska Schwichtenberg says. It could otherwise lead to disturbances in the electrolyte balance of the infant. "Please continue to breastfeed or give pre-food – just as the little one is fed anyway," says the expert in the magazine "Baby and Family". With older babies, however, things are different. It may "quench its thirst with still water" when it is about a year old.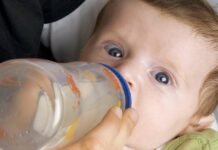 baby thirsty? How to recognize it
Babies have a high fluid requirement, but do not sweat like adults. Therefore, they can not cool down so well. Parents should make sure that their babies' lips and mucous membranes are not dry. "Six wet and heavy diapers a day" tells you whether the baby is drinking enough. Schwichtenberg recommends offering the breast or bottle from time to time.
You can tell if the baby is thirsty by three main signs: it sucks its fists, licks its tongue or seems generally dissatisfied. Of course, the mother should also make sure that she drinks enough liquid on hot days. (lrg/dpa)