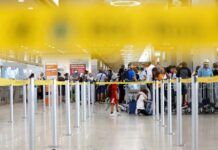 About not at all funny souvenirs, bad luck for burglars and an elegantly tricked package thief. The "People of the Week".
Well, she could have imagined that a hand grenade in hand luggage at the airport could cause trouble. But the 78-year-old probably thought: A souvenir from Poland in the form of a hand grenade is a "funny souvenir" and will probably not seem funny to anyone at the airport on the island of Usedom. Well, instead of being waved through, the lady triggered a special operation by explosives experts last weekend. As a police spokesman said on Monday, there were also delays for travelers on other planes at Heringsdorf Airport on Saturday – who certainly didn't find it funny at all.
After the alleged hand grenade was discovered in the hand luggage of the 78-year-old Luxembourger, she then explained that the "funny souvenir" was a lighter that she had bought in neighboring Swinemünde. In this context, it is reassuring that the people at customs did not say, "Oh, well, that's funny", but called the ammunition experts from the Mellenthin blast site to be on the safe side. They examined the item "to rule out any residual risk" and gave the all-clear after 90 minutes. It is not known whether the lady was allowed to take the funny souvenir with her.
What is certain is that a burglar in Kiel had chosen the wrong object: the 32-year-old climbed into the house of a couple of police officers on Friday night. As the police announced on Friday, the 47-year-old husband noticed the intruder in the kitchen on Thursday evening. With his wife and a guest – also a police officer – he overpowered him and held him until the officers on duty arrived. According to initial findings, the 32-year-old was very drunk. He was taken into custody. How things will go with him "has yet to be decided," it said.
And in Mainz, too, a thief chose the wrong object, in this case the mailbox of a 27-year-old who is very familiar with surveillance technology. Because, according to the police, the woman had long suspected that someone was stealing mail and packages from her mailbox, she ordered a teddy bear online and had the package delivered personally by the delivery person. Then – agent thriller or what?! – she undid a seam of the teddy bear, hid a GPS transmitter in the bear's belly, and put the package in her mailbox.
When the package was gone two days later, the woman was able to locate the teddy bear in a nearby apartment. She called the police, who found the package in a neighbor's closet after the 27-year-old sent a beep to the receiver. You don't need to say anything except: Cool woman! And: An investigation against the alleged thief has been initiated.