The number of monkeypox cases continues to rise. In the meantime, the first infection in a dog has also been reported. The WHO now assessed the situation.
Geneva – Last week, the journal The Lancet reported what was believed to be the first monkeypox infection in a dog. The case involves two men living in Paris and their Italian Greyhound dog. The World Health Organization (WHO) has now called on people with monkeypox to be careful to protect their pets. "This is the first reported case of human-to-animal transmission," WHO monkeypox expert Rosamund Lewis said in Geneva on Wednesday (17 August). "We believe this is the first case in which a dog has been infected."
Monkeypox: WHO warns of caution after the first case in dogs – but pets "no risk"
Experts were aware of the theoretical risk that such a transmission could take place. Public health officials are already telling people to stay away from their pets, Lewis said. In the event of an infection, "waste management" is also important in order to reduce the risk of rodents and other animals outside the household becoming infected with the virus. Those affected must be informed about how they can protect their animals and how they deal with their waste, "so that animals are generally not exposed to the monkeypox virus".
If viruses jump to another species, there is concern that they may mutate into a more dangerous variant. However, the concern of the WHO applies above all to animals that do not live together with humans. It is more dangerous "where a virus enters a small mammal population with a high animal density," said WHO Emergency Director Michael Ryan. "Through the process of one animal infecting the next and the next and the next, there is rapid evolution of the virus," he explained.
When it comes to pets, there's little to worry about, Ryan said. He does not assume "that the virus will develop faster in a single dog than in a single human," he said. "While we must remain vigilant," Ryan said, "pets pose no risk."
WHO: Monkeypox vaccination "no panacea"
There is now a monkeypox vaccine for humans. According to the WHO, however, this is not a panacea. "We knew from the start that this vaccine would not be a panacea, that it would not meet all the expectations that were placed on it," Lewis said. But that was also not to be expected. Vaccination breakthroughs are reported both in people who were vaccinated after possible contact with an infected person and in those who had been vaccinated as a precaution.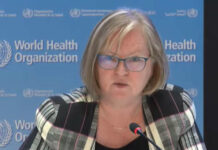 Lewis stressed that vaccinates must wait at least two weeks after the second dose of vaccine to allow the compound to become fully effective before engaging in risky behavior. More than 90 percent of monkeypox cases are reported in men who have frequent sex with multiple partners. She called on these men to reduce their number of sexual partners and avoid group sex.
As of Wednesday, the WHO had reported more than 35,000 monkeypox cases from 92 countries. Twelve people died. Within a week there were 7,500 cases, 20 percent more than in the previous week. According to the Robert Koch Institute (RKI), a total of 3,242 cases of monkeypox have been reported in Germany so far (as of August 18).
Monkeypox is also spreading in Munich – an expert explains how to protect yourself and what to do if you get sick. (ph/afp/dpa)