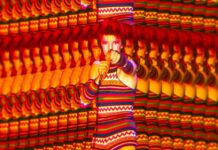 David Bowie's estate is opened up for the big screen – not necessarily always with sensitivity: the documentary "Moonage Daydream".
It would be a truism to say that David Bowie was a man of many faces. In fact, his genius consisted in the constant erasing and rewriting of his artistic persona – and this in turn stimulated his superior musicianship and audiovisual artistry. Bowie's ability to change made him one of the most influential personalities of the second half of the century far beyond musical culture. Not only the counterculture saw him as a role model. At a time when gender identities were hardly an issue, he vicariously opened doors that were thought to be closed, especially for classes who had no access to the underground culture of the 1960s.
His amazing courage for self-criticism and reinvention, bordering on self-destructive for outsiders, should be the ideal subject for a film biography. Documentary filmmaker Brett Morgen also finds enough Bowie quotes in talk show appearances and scattered audio interviews in the two and a quarter hours of Moonage Daydream to prove this. A day that was like the previous one or remained without creative traces at all was a lost day for Bowie.
His work was correspondingly disparate, even apart from music, which was presented for the first time in an exhibition that toured between 2013 and 2018. Back then, the chronological presentation seemed the best way to understand the many side scenes, sometimes kept secret.
These included amazing paintings, such as a series of portraits he had modeled on the streets of Berlin, and early experiments with analogue video art. At times, Bowie took his work as an actor just as seriously as his music. Notable in this film is a snippet of his portrayal of "Elephant Man" John Merrick at a London theater in 1980, even before David Lynch adapted the theme: Bowie plays the character largely without relying on the makeup artist's work.
Years ago, when collection items from his estate were auctioned off, you first got an idea of the multifaceted cultural education behind his stylish appearance. Among other things, he owned a first-class Tintoretto. What a celebration it would be for a documentary filmmaker to draw a comprehensive portrait of this Renaissance man from the hidden treasures of the Bowie estate for the first time.
But something about Morgen's filmmaking will to keep things in order persistently works against it. As if the ideal of every film montage was the homogeneous image, he straightens what he finds until Bowie has become exactly what he fought so vehemently against: a dazzling, yet straightforward, usable product. The only comments are from Bowie himself, but they often seem taken out of context. When an artist changes intentions as often as Bowie does, it can seem highly ambiguous to underline late statements with earlier images. The revolutionary then seems to speak mildly to us from beyond. And in retrospect, the unpredictable aspects of a career ultimately become the working through of a predetermined life plan, the goal of which (from the point of view of the producers) is posthumous fame – and the endless commercial availability of the pop icon, who was so fleeting during his lifetime.
Of course, fans won't want to miss any of this, as some of the film material is just too spectacular for that: Restored to immaculate condition, richly colored 16mm images of the "Ziggy Stardust and the Spiders from Mars" performances of the early 70s now effortlessly fill the largest screens (the film also runs in Imax cinemas in the USA). Later tours are also generously represented.
Live performances from the Berlin period are particularly attractive: perhaps the exploitation machinery will allow for a separate documentary film about this period, possibly even with memories of his fellow campaigners at the time, Brian Eno and Robert Fripp.
It was exactly this talking-heads style of usual rockumentaries that Morgen wanted to avoid; it would have been good if he had thought of something better. Instead, he throws dozens of associated film excerpts into his editing computer, which he considers appropriate, from George Méliès to Murnau to Eisenstein, Bergman or Stanley Kubrick. Bowie then appears as the heir to "Nosferatu" and the somnambulist from the "Cabinet of Dr. Caligari," but the effect doesn't expand the picture, rather it reduces Bowie's creativity to something epigonal.
One would have liked to have seen more of his own video art, the few seconds arouse curiosity. Could it be that the noisy black and white images just weren't found attractive for the big screen in search of abstract effects? His masterpieces, many great songs, don't fare any better. Like so many elaborately produced music documentaries, this one fears concentration on the individual work.
The abundance of incidental or pure contemporary color has a correspondingly tiring effect – which has the rare effect that even those who are passionately interested in the topic eventually just wait for the end. On the other hand: Now that Bowie's estate is in the hands of the "men who sold the world", the exploitation machinery will certainly spit out further and perhaps even better insights.
Moonage Daydream. Documentary film, USA/GB 2022. Director: Brett Morgen. 134 Min.