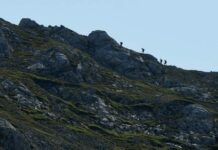 Two fatal accidents occurred in the mountains on Monday. In the Zillertal Alps, a 60-year-old fell while hiking. In Salzburg, a 64-year-old died while paragliding.
Tyrol/Salzburg/Munich – Again and again there are fatal accidents in the mountains. Two men died in two mountain accidents in Austria on Monday. The tragedies happened in Salzburg and in the Zillertal Alps in Tyrol, the Austrian news agency APA reported, citing the police. Just a few days ago, a hiker died in Mittenwald.
Austria: German paragliders and hikers died in an accident
According to a report, a 64-year-old man from Lower Saxony died while paragliding at the Zwölferhorn in Salzburg. The police suspect that the steering lines got caught shortly after take-off. Obviously, the man could no longer control the paraglider and fell from fifty to sixty meters. He succumbed to his injuries at the scene of the accident.
A man died in a hiking accident in the Zillertal Alps in Tyrol. According to the police, the 60-year-old was walking with three other Germans on the Aschaffenburger Höhenweg when he realized that he had forgotten his binoculars in a hut. He went back to fetch it. On the way he fell – for reasons still unknown – about 80 meters. His body was reportedly recovered by a police helicopter.
Alps: Mountain accidents in 2021 fell by a quarter
At the beginning of September, the German Alpine Association (DAV) presented its mountain accident statistics for 2020 and 2021 at a press conference in Munich. Accordingly, the number of accidents and emergencies among DAV members has fallen by a quarter compared to the previous year. According to DAV statistics, most accidents happen while hiking. "Of a total of 669 reported accidents and emergencies with 32 fatalities, 310 incidents occurred here, 17 of which ended fatally," writes the association. This means that almost every second report is a hiking accident. Not surprising, since hiking is the sport most frequently practiced, as can be seen from a regular member survey. The most common cause of accidents when hiking is a fall.