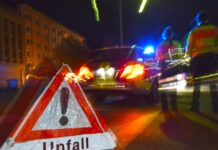 Traffic on Germany's roads has increased again. The number of accidents too.
Wiesbaden – After the Corona low in traffic accidents, the numbers are increasing again. In the first half of 2022, 1,238 people died in road accidents in Germany, twelve percent more than in the same period of the previous year.
As the Federal Statistical Office further announced on Wednesday, citing preliminary results, significantly more people were injured, the number rose by a fifth to almost 163,800.
In 2021, fewer road deaths were counted than ever since records began due to lockdowns, home office and home schooling. Traffic and mobility have now increased again, but the number of accidents is even lower than before the pandemic: According to the Federal Office, 16 percent fewer people were killed and 10 percent fewer people were injured in the first six months of 2022 than in the first half of 2019.
Saxony-Anhalt at the sad top
According to the information, the police recorded a total of around 1.15 million accidents in the first half of 2022, nine percent more than in the same period last year. Around 131,500 accidents killed or injured people (up 19 percent), and almost 1.02 million accidents resulted in property damage (up eight percent).
On a national average, 15 people per million inhabitants were killed in traffic accidents in the first half of the current year. This number was highest in Saxony-Anhalt with 35 traffic fatalities per million inhabitants, followed by Lower Saxony and Mecklenburg-Western Pomerania with 22 traffic fatalities per million inhabitants. In contrast, the value in the city states of Berlin (2), Bremen (6) and Hamburg (7) was well below the national average, as the Federal Office announced. In Saarland there were ten traffic fatalities per million inhabitants, in North Rhine-Westphalia and Saxony twelve. dpa