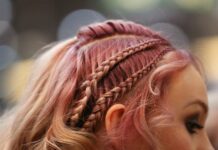 Braided hairstyles work better when the hair is manageable. Therefore, you should follow these tips when braiding.
Frankfurt / Main – Freshly washed hair does not last long in a braided hairstyle. It is better if they were cleaned the night before and no treatment or conditioner is used. Ricarda Zill, make-up artist and cosmetics expert for the German Body Care and Detergents Industry Association (IKW) recommends this.
Conditioners or treatments straighten the hair and weigh it down so that it lacks volume. Alternatively, you should apply a heat protection spray to the lengths and ends after washing and spray the roots with a dry shampoo just before braiding. The latter provides the volume, as well as more manageable hair, which makes sense when braiding.
After braiding, fix the hairstyle with a hairspray, which should not stick the hair too much. The hairstyle will hold, but there is still enough movement in the hair, says Ricarda Zill. dpa