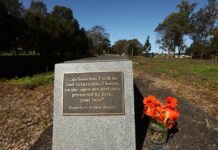 17 years ago, the then 25-year-old disappeared without a trace at a campsite north of Sydeny. Her boyfriend at the time came under suspicion. But the police are still looking for evidence.
Sydney – In the murder of the German teacher Simone Strobel, who was killed in Australia 17 years ago, the start of the trial has apparently been postponed. The court in Lismore announced on Wednesday that the hearing would be adjourned to November 9, Australian media reported, citing the judiciary. The police have requested a further six weeks to take evidence, according to the Australian "Daily Telegraph". According to the information, the accused ex-boyfriend of Strobel was not in the courtroom and was represented by his lawyer.
The German was arrested at his home in Perth, Western Australia, at the end of July and flown to Sydney. There he was charged with murder. A few days later he was released on bail and returned to his Australian wife in Perth. The responsible judge had accused the prosecution of having presented little evidence for their allegations.
The arrest was a surprising twist in the case, which remains unsolved despite thorough investigations. In 2005, 25-year-old Simone Strobel from Lower Franconia was traveling in a mobile home in Australia with her then 24-year-old boyfriend. Later, the friend's sister and her friend from Germany joined them. The four were at a campsite in Lismore, north of Sydney, when Strobel suddenly disappeared. A few days later, her body was found under palm fronds near the campsite.
The bail conditions for the defendant include reporting to a police station three times a week and surrendering his passport, the court order said. He is also not allowed to use encrypted communication services such as Whatsapp. dpa