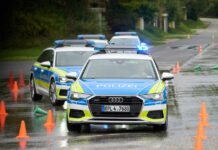 The seven police motorway stations in Rhineland-Palatinate will soon be on the road with Audi. Read here what the new high-horsepower patrol cars can do:
After an EU-wide tender, new Audi patrol cars will gradually replace the existing Mercedes E-Class police fleet in Rhineland-Palatinate in the near future. Interior Minister Roger Lewentz (SPD) presented the new vehicles specially equipped for use on motorways and expressways for the motorway police.
LUDWIGSHAFEN24 reveals how the new Rhineland-Palatinate police patrol cars are equipped and what distinguishes them from the old Mercedes fleet.