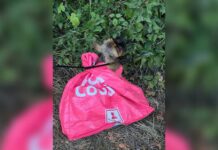 In Beckum, North Rhine-Westphalia, a woman discovered a neglected dog. It was in a plastic bag that was tied with zip ties.
Beckum – It is a sad find that a walker had to make last Friday (August 12) in Beckum in North Rhine-Westphalia. The woman discovered a neglected dog that was abandoned in a bush in a wooded area. The animal was in a "laced plastic bag", as the police reported in a statement.
The red plastic bag was secured with cable ties around the small dog's neck. Only the animal's neck and head protruded from the bag. According to the police, the dog looked neglected. "The officers freed him from the bag and the witness took him to an animal hospital," the statement said.
Beckum (NRW): A walker finds a neglected dog in a plastic bag – the police are looking for witnesses
As reported by the picture , the examination at the veterinary clinic found that the dog was paralyzed. So he had to be put down. According to the report, there were also stones in the plastic bag. A photo shows that it is a bag from the Kaufland supermarket chain. Maybe someone wanted to sink the dog in the Phönixsee, near where it was found at Kollenbach in Beckum.
The North Rhine-Westphalia police are now investigating a violation of the Animal Welfare Act. Among other things, the officials are looking for information about the owner of the dog. In addition, the investigators ask: "Who saw someone who put the bag closed with cable ties there?" The Beckum police takes clues on telephone number 02521/911-0 or by email: [email protected] opposite.
The current heat is also dangerous for dogs. In Olching, a dachshund was last locked in a car for 40 minutes in the blazing sun. (ph)