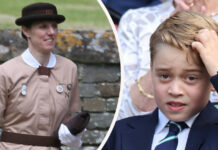 The new home in Windsor that Kate Middleton and Prince William will soon be moving into is one room short. That means Prince George, Princess Charlotte and Prince Louis will be living without their beloved nanny for the first time. But Nanny Maria apparently stays close by.
Windsor – Gone are the days when the Cambridges' famous nanny, Maria Teresa Turrion Borrallo, stood by day and night for Prince George, 9, Princess Charlotte, 7, and Prince Louis, 4. A painful loss also for Kate Middleton (40) and Prince William (40), who lost a loyal soul with their move from Kensington Palace to Adelaide Cottage in Berkshire. According to the Daily Mail, the new home has no space to accommodate the well-deserved nanny.
No bedroom for the Cambridge children's beloved nanny
No cook, no housekeeper, no nanny. The grandson of Queen Elizabeth II (96) Prince William and his wife Kate Middleton are on their own. Since Prince George was eight months old, he has had the Spanish nanny with the spirited name around him almost every day. Now that he's nine years old, the farewell is likely to hit him hardest. But what was no problem in the palace is no longer possible with four bedrooms. There is no room for Maria in Adelaide Cottage.
Princess Charlotte and Prince Louis could also always count on Maria. According to the Telegraph, she is also said to be moving to Windsor and continuing to work as a nanny for the Cambridges, but where she ends up is unknown. It's a matter of time how long the nanny will continue to operate in the children's orbit, because all doors are wide open for nannies with Borrallo's reputation and her elite training at Norland College.
Kate Middleton's parents will probably look after their grandchildren more often
Prince William and Duchess Kate try to offer their offspring as normal a life as possible in the midst of their privileged childhood. One of the reasons for the move is the freedoms that simply weren't possible at Kensington Palace in the capital, London. The couple wants to be close by as often as possible when the children are being taken to school, when they are having breakfast, dinner or bathing.
A source confirms they will be moving into Adelaide Cottage before the start of the new school year. The move also means that the family will reside in close proximity to the Queen and Kate's parents are now a significant step closer to their grandchildren. Maybe they should compensate for the possible loss of the beloved nanny to a certain extent. Sources used: Instagram, people.com, dailymail.co.uk, telegraph.co.uk