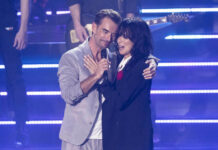 Nena is sharply criticized for some Corona statements. Most recently, she was a guest at the Silbereisen hit anniversary. The network is hailing criticism for the broadcaster.
Kassel/Leipzig – 100 programs in honor of the hit: Florian Silbereisen celebrated "The Great Hit Jubilee" of his show on ARD on Saturday evening (October 22nd). In addition to Roland Kaiser, Andreas Gabalier and Schlager icon Jürgen Drews, Helene Fischer was also back from the baby break on the stage in Leipzig.
Pop singer Nena, who recently attracted attention because of controversial statements about the corona pandemic, was also a guest on the Schlager show.
Nena at Florian Silbereisen's hit anniversary: "The song means a lot to me"
After initially withdrawing from the public eye, Nena celebrated her TV comeback on the Schlager show in the summer. Her performance bubbled with harmony and good humor. The 62-year-old performed a few songs and seemed to be having fun with showmaster Silbereisen. Her political views were not discussed.
Everything went smoothly for the 100th anniversary as well. "The song means a lot to me. It gives me strength and comfort," said Silbereisen after Nena had performed an acoustic version of "Wonders Happened". The singer even brought a gift: a self-knitted scarf for Florian Silbereisen. When she made her comeback in the summer, she had already hinted that knitting was her new hobby.
Nena at the Silbereisen show: "It's love at first sight"
After a warm hug on stage, Nena said goodbye to the audience. "We only met recently, but it's love at first sight – even if it's just platonic," enthused Silbereisen. This time, too, Nena's statements about the corona pandemic were not discussed. It seemed like nothing had ever happened.
The appearance has at least caused irritation on social media. The fact that Nena appeared showed a Twitter user that "you haven't learned anything". His criticism applies above all to the ARD, which had broadcast the program.
"@DasErste still has no problem presenting the right edge in its compulsory fee-financed shows," criticized another. Another user sees it similarly: "If Silbereisen likes Nena, #ARD likes to invite Schwurbler. Waiting for Wendler to appear."
Nena had repeatedly made negative headlines with her statements about the corona pandemic. For example, she supported a Corona demo in Kassel last year, which led to serious riots. At her own concerts, the singer joked about the measures taken at the time. After the organizers increasingly distanced themselves, the 62-year-old withdrew from the public. Nena also completely canceled her tour this year.
Nena returns to the public with a summer tour
The MDR had already taken a stand on Nena's comeback in the summer. "Nena was critical of the Corona measures. Diversity of opinion and freedom of expression are elementary components of a pluralistic society.
The appearance at the Silbereisen anniversary should have finally ended Nena's break from the public. Just one day after the hit show, the singer announced her summer tour next year on Instagram. (cheese)