Pilots of a Lufthansa jet on the way from Munich to Sylt are forced to make an emergency landing. The machine is now being examined in Hamburg.
Sylt/Hamburg/Munich – Passengers on a Lufthansa flight experienced a moment of horror on Friday evening (September 9th). As reported by the Aviation Herald flight portal, the pilots reported a problem with the hydraulic system on a flight from Munich to Sylt.
Although the Lufthansa CRJ jet was already in Sylt airspace, the pilots decided to turn around and land in Hamburg. The emergency landing took place at 7.50 p.m. without any problems.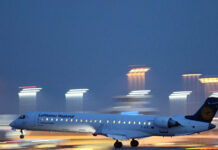 Emergency landing in Hamburg: Lufthansa plane on the way from Munich to Sylt
"The machine is still being examined," a spokesman told the Hamburger Morgenpost . The safety of the passengers always comes first. The 71 passengers were brought to Sylt by ground transport. (csa)
More news from air traffic: Due to engine problems, a Lufthansa plane en route from Frankfurt Airport to Malta recently had to turn around and make an emergency landing.