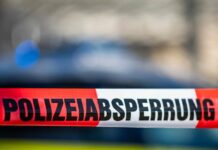 Moment of shock in Offenbach: shots are fired, shortly afterwards a man dies, another is seriously injured. The alleged perpetrator flees – and is being searched for with a large contingent.
Offenbach – In the evening, a man was shot dead in Offenbach, Hesse. Another man was seriously injured, said a police spokesman. He had come to a hospital. The alleged perpetrator is on the run. A large-scale manhunt is underway, and a police helicopter is also in use. "hessenschau.de" had previously reported.
According to initial findings, two victims and one perpetrator were involved in the incident, the spokesman said. It is not yet known how many shots were fired. The shot was fired shortly after 8:00 p.m.
A bar in downtown Offenbach was largely cordoned off with a flutter tape late in the evening, and police officers could be seen inside. A police car blocked off the street next to it. The police were on site with numerous emergency services, and the federal police were also on duty. Police officers searched neighboring train tracks with flashlights. A police helicopter circled downtown.
The background to the shooting is "still completely unclear," the police wrote. Anyone who saw suspicious people or vehicles near the scene of the crime should report it. Police urged people to avoid the area. In addition, she asked the population via the "Hessenwarn" app not to pick up hitchhikers. dpa