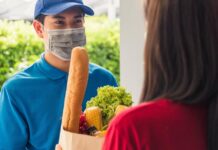 In the past, gaps in the legal code repeatedly led to problems with online shopping. Some are now to be closed.
Frankfurt – Customers always have to adapt to new rules when shopping. In 2022, among other things, the deposit system at Lidl, Rewe, Edeka and Co. was changed. A ban on plastic bags also came into force. And Aldi customers could soon benefit from another innovation: Aldi Nord is currently testing a checkout-free supermarket.
From September, new rules are intended to make online shopping safer for consumers. At least since the Corona pandemic, more and more people have been buying their daily groceries online. Customers were no longer well protected there.
Changes: Online shopping should become safe
So far, there has been a lack of sufficient monitoring of trade. This made it difficult to trace products back to the manufacturer. This can be dangerous for health, especially when perishable foods are recalled – for example, if salmonella are involved. This gap should now be closed.
The German Food and Feed Code (LFGB) is being adapted to current EU law, resulting in some changes. The monitoring of online trade in perishable food, cosmetics and consumer goods is to be improved. Monitoring authorities may order goods anonymously for quality testing. Information on the traceability of products must be transmitted electronically to the authorities within 24 hours from September 1st.
New Laws: Combat Deliberate Deception
In this way, supply chains are to be traced and possible health risks averted. There will also be official control rights – if there is a suspicion of violations by online marketplaces. They must remove unsafe products from the platform.
The aim of these changes in the law is to make buying groceries on the Internet as safe as it is in the branches. Deliberate deception of consumers through confusing or inadequate product descriptions should also be reduced. (jfw)