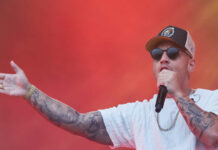 Pietro Lombardi will return for the final DSDS season. The singer will sit on the jury alongside Dieter Bohlen. Here's how the 30-year-old reacted to his comeback:
Pietro Lombardi (30) will sit behind the jury panel again for the last DSDS season, together with Dieter Bohlen. RTL reports this. "He is my absolute dream candidate for the jury: we met at DSDS twelve years ago. Everyone knows that I've held him firmly in my heart since then," says the pop titan.
MANNHEIM24 reports on Pietro Lombardi's reaction to his DSDS comeback as a juror.
Pietro Lombardi's fans are more than excited about this news. Pietro Lombardi took part himself in the 8th season and, as is well known, even won in the end. (jol)