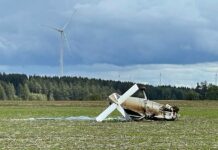 A small plane crashed in Bavaria. The pilot was dead when rescue workers arrived. How did the crash happen?
Thalmässing – The pilot died when a small plane crashed in Middle Franconia on Saturday. The machine crashed in a field near the Thalmässing-Waizenhofen airfield (Roth district), the police said on Saturday.
Shortly after noon, the police received an emergency call from a passer-by, but the pilot was already dead when the rescue workers arrived.
The machine probably did not start at the nearby airfield, but in Upper Bavaria, said a police spokesman. He was initially unable to provide any information on the destination of the flight and the identity of the pilot. The cause of the crash is now being investigated by both the police and aviation accident experts. dpa