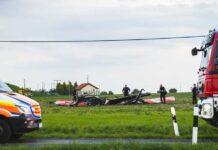 Plane crash in Thuringia: According to the fire department, two aerobatic pilots collided in the air and crashed. So they didn't survive.
Gera – Two people died in a collision between two planes on Saturday evening on the outskirts of Gera. According to a spokesman for the fire brigade, the casualties are two aerobatic pilots who collided in the air with their respective machines near the Leumnitz airfield on Saturday evening. "According to current knowledge, two aircraft crashed," the police confirmed.
The planes crashed after the collision over an open area, the fire department said. There were no other deaths or injuries.
According to their own statements, the police and fire brigade were in action with a large contingent. The area around the crash site near the airfield was cordoned off.
Details of how the accident happened and the identity of the pilots were not initially known. "The exact circumstances of the accident are the subject of the immediately initiated criminal investigations," the police said in a statement. According to a police spokesman, specialists from the Federal Institute for Aircraft Accident Investigation were expected in the evening to investigate the crash.
According to the website, aircraft with a maximum take-off weight of 5.7 tons are allowed to take off and land at the Gera-Leumnitz airfield. It is an airfield for both commercial and sport aviation. dpa