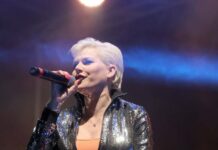 Forbidden right gesture or harmless request to the audience? The police are investigating an appearance by the former RTL jungle queen Melanie Müller. The 34-year-old defends herself against allegations.
Leipzig – The Ballermann singer Melanie Müller (34) has been touring the festival tents of the Republic with mood music for years. A performance in Leipzig has now called the police into action. Did she show the so-called Hitler salute there or not – that is now the subject of investigations. "It's about the suspicion of using license plates of unconstitutional organizations under paragraph 86a of the Criminal Code," said a police spokeswoman on Thursday. Müller vehemently defends himself against the allegations and distances himself from the Nazis.
State security department switched on
Specifically, it is about a video that was available to "Bild", which should show how the singer raises her right arm a few times during a performance on stage in mid-September. "The video is now being evaluated intensively," emphasized the spokeswoman. She did not want to give any further details. The state security department of the Leipzig criminal police is now dealing with the question of whether this was the so-called Hitler salute or a harmless, inviting gesture to the audience.
Melanie Müller, once the jungle queen and "Celebrity Big Brother" winner, rejects any proximity to the Nazis. "I have nothing to do with right-wing radicals or nationalistic ideas. I condemn that in the strongest possible terms," wrote the Saxon in an Instagram post. On Wednesday she also told the "Bild": "I've been on stage for eleven years and always do these hand movements. Not from a right-wing extremist background, but "Zicke zacke zicke zacke", exactly the way I do it there."
Only on Tuesday did Müller distance himself from right-wing extremist statements that could be heard in the audience on another video from the same performance. She was "dismayed and outraged," the 34-year-old explained. She canceled the performance on September 17 after the right-wing slogans from the audience. The Leipzig police are also investigating in this case. The singer had canceled a performance in Dresden planned for Wednesday.
A lot on social media
Müller has been letting her fans participate intensively in her life for a long time – especially via Instagram. There she not only posts photos of her performances, but also pictures of her two small children Mia Rose and Matty. She also commented in detail on the allegations and investigations there and referred to her statement at the request of the dpa on Thursday. The 34-year-old wrote that the "malicious allegations" went to her substance and that she was in quite a physical state right now. Therefore, she will withdraw a little for the next few days, recover and try to process the whole thing. You also have to protect your children.
The singer was born in Oschatz, Saxony. In 2014 she won the eighth season of "I'm a Star – Get Me Out of Here!" and then appeared in numerous similar TV formats. As a pop singer, she sings in Mallorca, among other places, in the Bierkönig and Oberbayern discotheques and performs at booked events. On the Spanish holiday island, she also opened a "Grillmüller" snack bar, where she even handed sausages over the counter. Last year, the separation from her husband and father of her children made headlines. dpa