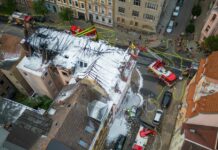 A house fire in Apolda, Thuringia, killed two and injured 22. The police do not completely rule out arson.
Apolda – After the fire in an apartment building with two dead and almost two dozen injured in Apolda, the police are investigating possible arson.
There are indications that it could be arson, said a spokesman for the state police in Jena on Monday on request. But other causes, such as a technical defect, cannot be ruled out.
Two people died in the fire early Sunday morning. A 53-year-old was fatally injured trying to save himself by jumping out of the window. The second fatality could not be recovered and identified as of Monday morning.
The police meanwhile continued to correct the number of injuries upwards. Two firefighters were among the 22 injured. Most suffered smoke inhalation. According to information from Sunday, the fire brigade saved 30 people. The police spokesman said there were more people in the house than were reported there.
The house has not yet been entered. It's uninhabitable. During Monday, an attempt should be made to fly over the ruins with a drone, the police said. The city administration asked those willing to donate who want to help the fire victims to get in touch. The police estimated the property damage at around two million euros. dpa