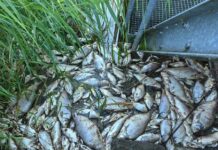 In the summer, the great fish kill began. Tons of dead fish have been fished out of the upper. How did this come about?
Warsaw – In a report, Polish scientists have confirmed the thesis that a toxic alga caused the fish kill in the Oder. "The reason for the fish deaths was most likely the toxic effect of an algal bloom," said Agnieszka Kolada, a water biologist from the Institute for Environmental Protection in Warsaw on Thursday when presenting the preliminary report.
The Polish Ministry of the Environment commissioned a group of 49 scientists from 14 research institutes to investigate the causes of the environmental catastrophe.
In July and August, masses of dead fish were discovered and collected in the Oder on the Polish and German sides. According to Kolada, on the Polish side it was 249 tons. After a lengthy search for the causes of the fish kill, the algae species Prymnesium parvum was detected in water samples in both Poland and Germany. It can form a deadly poison for fish.
In Poland, a total of 221 water samples were taken from different sections of the Oder between August 12 and September 8, Kolada said. Prymnesium parvum was detected in 78 percent of these samples. This type of algae had never been noticed in Poland before. The findings from examining dead fish and mussels also indicated that the algal toxin was the cause of a "sudden, quick" death.
A number of factors favored the algal bloom, the report said. It didn't rain for almost two months in midsummer, which led to a low water level in the Oder. The water temperature rose at times to up to 27 degrees. The low water level also caused the salt concentration to increase. "So the alga found conditions that allowed it to develop," Kolada said. The scientists warn that the massive flowering of Prymnesium parvum in the Oder and other rivers in Poland could repeat itself in the coming years. The German Federal Ministry for the Environment wants to publish the final results of the German side on Friday. dpa