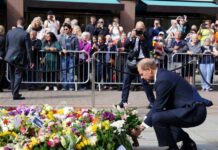 Prince Edward also speaks for the first time about the death of his mother, Queen Elizabeth II. He publishes a message in which he is touched.
London – The youngest son of the late British Queen Elizabeth II, Prince Edward, has publicly commented on his mother's death for the first time.
It was nice to say goodbye to the Queen privately at Balmoral Castle, the statement said on Friday. As a family, however, you learned from an early age to share your parents and, above all, your "beloved mom" with the nation, the other areas in which she was head of state, and the Commonwealth of States. Now it's time to give others the opportunity to say goodbye, says the 58-year-old.
Edward: United in sorrow
Edward was deeply touched by the public's sympathy for "such a special and unique personality who was always there for us." Now let us be united in sorrow. He added: "Thank you for your support, you have no idea how much this means to us." The Queen's death, "so much time" with him, his wife Countess Sophie (57) and their two children Lady Louise, 18, and Viscount Severn, 14, leave an "unimaginable void," Edward said.
"May God bless Her Majesty and may her memory be long cherished even though the baton she has carried for the past 70 years will now be passed on to the next generation and to my brother Charles," wrote the 13th in line to the throne concluded with: "Long live the king." dpa