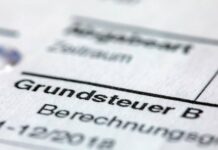 In Baden-Württemberg, several municipalities have turned the property tax screw. According to a study, it is primarily more expensive in the city of Tübingen.
Tübingen – Expensive energy prices, fuel and food are just three reasons why many consumers in Germany have to tighten their belts. In order to relieve the burden on citizens, the federal government has introduced a number of reliefs – such as the tank discount or the energy flat rate, which are to be paid out from September. The adjusted property tax in many municipalities in Baden-Württemberg does not fit into the picture here.
BW24 reports where property tax has become more expensive in Baden-Württemberg
A study published by the consulting firm Ernst & Young (EY) mentions property tax B rates that have risen in 13.4 percent of the municipalities in Baden-Württemberg. Only 0.3 percent of the municipalities would have lowered the rates instead, the study authors report. The tax policy of the individual towns and municipalities in the south-west is sharply criticized on Facebook – "Everywhere just rip-offs", writes one user.