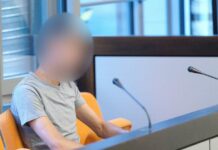 The manager Bernhard Günther was attacked by two masked men in March 2018 and showered with highly concentrated sulfuric acid. In fact, a Belgian is said to have been involved.
Wuppertal – After the acid attack on the energy manager Bernhard Günther four years ago, the public prosecutor's office has applied for twelve years in prison for the accused. In view of the evidence and, above all, the DNA traces, there could be "no reasonable doubt" about the Belgian's complicity, the prosecutor argued.
Günther was permanently disfigured, he was suffering from severe pain. "The injured party will not get his former life back," said the prosecutor. The accused Belgian had protested his innocence in the trial at the Wuppertal Regional Court: he was not involved in the crime.
The 55-year-old top manager Günther was attacked by two men near his home in Haan near Wuppertal on March 4, 2018, he was showered with highly concentrated sulfuric acid and severely burned. He has had multiple surgeries. Eyelids and parts of his facial skin had to be transplanted. Numerous other operations were still to come, Günther said. dpa